Chinese Chicken Soup
Sara Moulton Puts a Healthy, Asian Twist On a Classic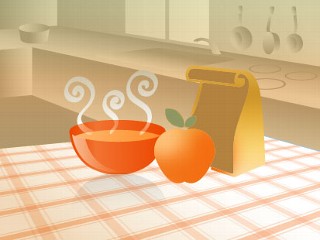 From the kitchen of Sara Moulton
Whenever you're dieting, Sara Moulton says, clear soups make a great meal choice because they don't contain the fat content of cream-based soups. This Chinese Chicken Soup from "Sara's Secrets for Weeknight Meals" is healthful, flavorful and light but still filling. Serve it with a tossed green salad, and you've got yourself a full meal.
Ingredients
7 scallions, white and light green parts
3 slices fresh ginger, each the size of a quarter
3 cans of chicken broth (14-ounces each), or 5 1/4 cans chicken stock
1/2 cup rice wine (sake or dry sherry)
1 tablespoon vegetable oil
8 ounces medium fresh shiitake mushrooms, stems discarded, caps quartered
1 pound boneless, skinless chicken breasts, cut into 1/2-inch cubes
1 small head Napa cabbage (about 3/4 pound), coarsely shredded
8 ounces firm tofu, cut into 1/2-inch cubes
1 cup cooked rice
3 tablespoons soy sauce
1 teaspoon toasted sesame oil
1/3 pound sugar snap peas, trimmed and sliced diagonally into thirds
Kosher salt and freshly milled black pepper
Cooking Directions
Smash 3 of the scallions and the ginger lightly with the side of a knife and combine with chicken broth and wine in large saucepan; bring to a boil over high heat. Reduce heat to low and simmer for 15 minutes.
Thinly slice the remaining 4 scallions (about 1/2 cup) and set aside.
Meanwhile, heat the oil in a large skillet over high heat until hot; reduce heat to medium, add mushrooms and sauté for 5 minutes or until just tender.
Remove scallions and ginger from the broth and simmer gently for about five minutes, or until chicken is almost cooked through.
Stir in the cabbage, tofu, rice, cooked mushrooms, soy sauce and sesame oil, and cook until cabbage has wilted, about one minute.
Stir in snap peas, add salt and pepper to taste, and simmer 30 seconds. Sprinkle with remaining sliced scallions and serve immediately.
Recipe Summary
Main Ingredients: scallions, rice wine, mushrooms, napa cabbage
Course: Soup, Appetizer/Starter, Lunch
More Info: Low Fat