Emeril's Eggs Florentine and Potato Pancakes
Emeril Lagasse's Delicious Breakfast Recipe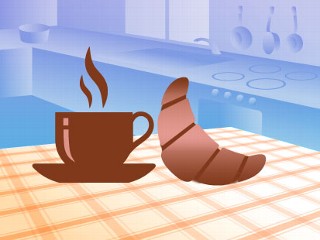 From the kitchen of Emeril Lagasse
|
To get you in the mood for Emeril's Valentine's Day Breakfast In Bed Contest, Emeril Lagasse prepared Eggs Florentine on "Good Morning America."
Ingredients
Mornay Sauce, recipe follows
8 large eggs
2 tablespoons white vinegar
2 teaspoons salt
Freshly ground black pepper
2 tablespoons fresh parsley leaves, finely chopped
Mornay Sauce
2 tablespoons butter
3 tablespoons all-purpose flour
2 cups milk
1/4 teaspoon salt
Pinch white pepper
Pinch freshly grated nutmeg
2 ounces cheese (such as Swiss, Gruyere or Emmenthale), grated
Cooking Directions
Preheat oven to 200° F.
Prepare the Sautéed Spinach and keep warm while you prepare the remaining components.
Prepare the Mornay Sauce and keep warm while you prepare the remaining components. Prepare the Crispy Potato Cakes and keep warm in the oven while you poach the eggs.
To poach the eggs: Break the eggs into individual saucers or cups. Fill a large skillet halfway with water. Add the vinegar and salt, and bring to a boil.
Pour eggs into water, cover the skillet, and remove from the heat. Allow to sit 4 to 5 minutes.
When the eggs are ready, divide the potato cakes evenly between 4 dinner plates and top each with some of the Sautéed Spinach. Remove the eggs from the skillet with a slotted spoon and gently place on top of the spinach and potato pancakes. Season with salt and freshly ground black pepper to taste. Ladle some of the Mornay Sauce over the eggs and spinach, garnish with parsley, and serve.
Mornay Sauce
In a small saucepan, melt the butter over medium-high heat. Add the flour and cook, stirring constantly, until the roux is pale yellow and frothy, about 1 minute. Do not allow the roux to brown.
Slowly whisk in the milk and continue to whisk until the sauce thickens and comes to a boil, about 2 to 3 minutes.
Reduce the heat to a simmer and season with the salt, pepper and nutmeg. Allow to simmer for 2 to 3 minutes. Stir in the cheese and whisk until melted. If the sauce seems too thick, thin with a little milk.
Use sauce immediately or refrigerate, surface covered with plastic wrap, for up to several days in the refrigerator.
Makes about 2 cups
Recipe copyright 2006, Emeril Lagasse, Emeril's Food Of Love Productions
Other Recipes That You Might Like