Mario Batali's Corn and Sweet Onion Salad
From 'Mario Tailgates NASCAR Style'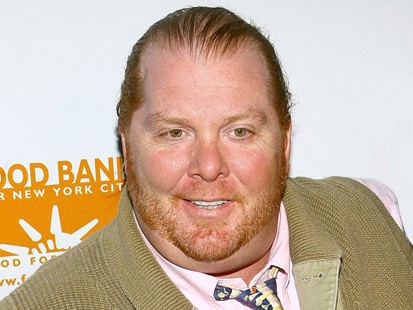 From the kitchen of Mario Batali
Food Network star and restaurateur Mario Batali has a new book, "Mario Tailgates NASCAR Style," which specializes in Southern-style grill favorites. Anyone who loves to tailgate will be sure to find something they like in this cookbook.
Ingredients
1/4 cup plus 2 tablespoons extra-virgin olive oil
2 medium sweet onions, thinly sliced
6 ears of corn, grilled (or 2 8-ounce cans corn kernels packed in water, drained)
6 ounces roasted red peppers (1 jar), drained and finely chopped
1 can white beans (12 ounces)
1/2 cup fresh parsley, finely chopped
2 tablespoons freshly squeezed lemon juice (1 lemon)
2 tablespoons red wine vinegar
2 tablespoons fresh basil, chopped (or 1 teaspoon dried)
1 tablespoon fresh thyme leaves (or 1 teaspoon dried)
1 teaspoon sugar
1 teaspoon salt
Freshly ground black pepper
Cooking Directions
Place a skillet over medium heat. Add 2 tablespoons of the olive oil and the onions and cook slowly until the onions start to caramelize, about 15 minutes. Remove from heat and transfer to a large mixing bowl.
Using a serrated knife, trim the kernels from the roasted corn and add to the bowl along with the roasted pepper, white beans and parsley. Set aside.
In a small bowl, whisk together the lemon juice, vinegar, basil, thyme, sugar, salt and pepper to taste. While you are whisking, slowly drizzle in the remaining 1/4 cup olive oil so it is well incorporated. Pour the dressing over the vegetables and serve or cover and keep cold in a refrigerator or ice-filled cooler for up to 12 hours.
Recipe Summary
Main Ingredients: corn, onions, white beans, thyme, basil
Course: Appetizer/Starter, Salad, Side Dish, Vegetable
More Info: Vegetarian