Emeril's Apple and Cherry Oatmeal Crisp
Emeril Lagasse's Fruit Crisp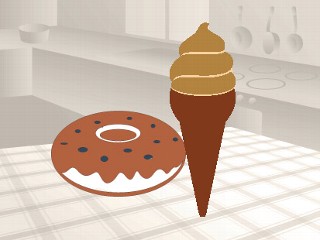 From the kitchen of Emeril Lagasse
Sweet and filling, Emeril's Apple and Cherry Oatmeal Crisp is a comfort dish that's sure to please.
Ingredients
2 pounds sweet firm apples (such as Braeburn - about 4 large or 6 small apples), peeled, cored and cut into 8 pieces
1 pound fresh pitted cherries (or frozen), rinsed well
1 cup walnuts, roughly chopped
3/4 cup granulated sugar
2 tablespoons fresh orange juice
2 teaspoons orange zest, grated
1 teaspoon ground cinnamon
1/4 teaspoon nutmeg, grated
1 tablespoon cornstarch
1 1/2 cups rolled oats
3/4 cup light brown sugar, packed
1/2 cup all-purpose flour
12 tablespoons unsalted butter, cut into pieces
Vanilla ice cream, as accompaniment
Cooking Directions
Preheat the oven to 375 degrees° F.
In a large bowl, combine the apples, cherries, walnuts, sugar, orange juice, orange zest, 1/2 teaspoon of cinnamon, 1/8 teaspoon of nutmeg and cornstarch and toss well to combine.
In a separate bowl, combine the oats, brown sugar, flour, remaining 1/2 teaspoon of cinnamon and remaining 1/8 teaspoon of nutmeg. Blend the butter into the dry ingredients using your fingers until the mixture resembles coarse crumbs.
Pour the fruit mixture into a 9-by-13-inch baking dish. Sprinkle the crumb mixture over the top and bake for 15 minutes. Lower the temperature to 350°F and continue baking until bubbly, apples are tender, and the top is golden brown, 35 to 40 minutes. Remove from the oven and let rest at least 10 minutes before serving warm, with vanilla ice cream on top.
Yield: 12 servings
Recipe courtesy Emeril Lagasse, Emeril's Food of Love Productions, 2006
Recipe Summary
Main Ingredients: apples, cherries, walnuts, oats, nutmeg
Course: Dessert