Turkey Dumplings With Cranberry Gelee
Turkey Leftovers With an Asian Twist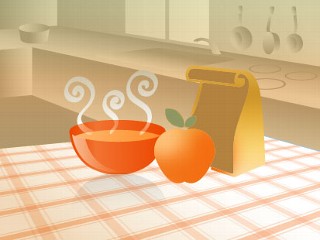 From the kitchen of Michael Schulson
After Thursday's turkey coma fades, what do you do with the refrigerator full of leftovers?
Executive chef Michael Schulson from the restaurant Buddakan in New York City demonstrated several turkey-leftover recipes with an Asian twist.
Ingredients
1 pound cooked turkey, minced
1/2 can canned cranberry sauce
12 wonton wrappers
1 teaspoon ginger, minced
1 teaspoon garlic, minced
1 teaspoon shallots, minced
1 tablespoon scallions, finely sliced
1 tablespoon cilantro (w/stems), chopped
3 tablespoon soy sauce
1 teaspoon sesame oil
2 tablespoons oyster sauce
1 teaspoon red pepper flakes
salt and pepper, to taste
Cooking Directions
In a large bowl, mix all the above ingredients well; set aside half cup jelled/canned cranberry sauce in 12 dumpling wrappers.
Lay the wrappers out and top with a teaspoon of the turkey filling. Add half teaspoon of the cold cranberry sauce. Brush the edges of the dumpling wrappers with some water, and fold the wrappers in half to seal. Steam for four minutes and serve.
Chef's note: Be careful when eating these dumplings, because the cranberry sauce will be very hot from the steamer.
Recipe courtesy of Michael Schulson, executive chef Buddakan, New York City
Recipe Summary
Main Ingredients: turkey, cranberry sauce, wonton wrappers, shallots
Course: Appetizer/Starter, Lunch, Snack