Rocco's Spring Green Salad
Meal Ideas for the Warmer Season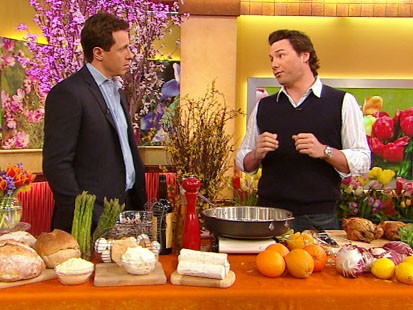 The chef prepares chicken and a radicchio salad from the book "Rocco Gets Real."
From the kitchen of Rocco DiSpirito
It's the first day of spring and Rocco Dispirito's fresh recipes are a great way to celebrate. Put away the stews and chowders that have helped keep you warm during the winter months in favor of lighter fare for a warmer season.
Tarragon is one of those herbs that takes a little getting used to — it's pretty licoricey and strong. But I love it. Tastes like spring to me.
Ingredients
1 1/2 cups Diner's Choice mashed sweet potatoes
4 hardboiled eggs
Salt and freshly ground pepper
1 large bunch asparagus, woody ends trimmed
1 1/2 bunches scallions, roots trimmed and sliced in half lengthwise
6 tablespoons butter
1 1/2 lemons, juice and zest
3 tablespoons fresh tarragon, chopped
Cooking Directions
Preheat a grill/grill pan/broiler on high. Bring a large pot of salted water to a boil. Meanwhile, in a microwaveable dish, heat sweet potatoes, covered, in the microwave on high until hot, about 4 minutes. Separate the egg whites from the yolks and chop each finely; set aside separately.
To blanch the asparagus: Drop the asparagus into the boiling water and let cook until tender, about 5 minutes. Remove asparagus from pot and drop immediately into a bowl of ice-cold water to stop the cooking process. Drain and set aside.
Season scallions with salt and pepper to taste and grill until tender and a little bit charred, turning once. Remove from grill and cut into 2-inch-long pieces.
To make lemon-butter sauce: Heat a medium saucepan over medium-high heat; add butter. Cook until butter is a deep golden brown color; add lemon juice and zest. Bring mixture to a boil. As it cooks, it will become slightly thickened and creamy. Swirl the sauce while cooking to help maintain the texture and simmer until about half of the lemon juice is evaporated. Season sauce with salt and pepper to taste and stir in tarragon.
To serve, spread sweet potato mixture onto a serving platter. Arrange asparagus on top of sweet potatoes. Scatter the scallions on top of the asparagus. Top the scallions with chopped egg white and yolk. Spoon warm butter sauce over the top of the salad and serve.
Recipe Summary
Main Ingredients: potatoes, asparagus, tarragon
Course: Appetizer/Starter, Lunch, Salad, Side Dish