Rocco's Rigatoni with Tomatoes
Meal Ideas for the Warmer Season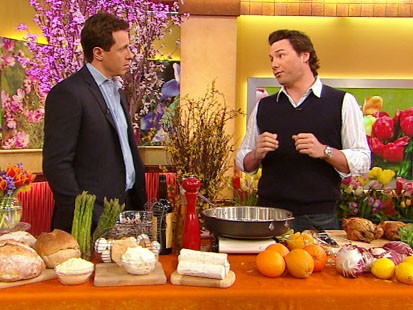 The chef prepares chicken and a radicchio salad from the book "Rocco Gets Real."
From the kitchen of Rocco DiSpirito
It's the first day of spring and Rocco Dispirito's fresh recipes are a great way to celebrate. Put away the stews and chowders that have helped keep you warm during the winter months in favor of lighter fare for a warmer season.
Rigatoni is one of the biggest, baddest, toothiest pastas, so it needs to be served with a hearty, big-flavored sauce substantial enough to stand up to it. The ricotta-and-walnut combination in this recipe makes a perfect match.
Ingredients
1 pound dried rigatoni
Salt and freshly ground pepper
1 jar Bertolli® Vineyard Marinara with Burgundy (24 ounces)
1 pound whole-milk ricotta
1 1/2 cups walnuts, toasted and finely chopped
1/3 cup Bertolli extra-virgin olive oil
1 cup fresh flat-leaf parsley, chopped
1 cup Parmigiano-Reggiano cheese, grated
Cooking Directions
Cook rigatoni in a stockpot of boiling salted water according to package directions.
2. Empty pasta sauce into a large microwaveable bowl and cover with plastic wrap. Microwave on high until hot, about 3 minutes.
3. Add cooked rigatoni, ricotta, walnuts, olive oil, parsley, and Parmigiano-Reggiano. Season to taste with salt and pepper; toss to combine and serve.
Recipe Summary
Main Ingredients: rigatoni, ricotta, parmigiano-reggiano, walnuts
Course: Dinner, Main Course, Pasta