Fabio Viviani's Fettuccini Amatriciana
Pasta From a Top Chef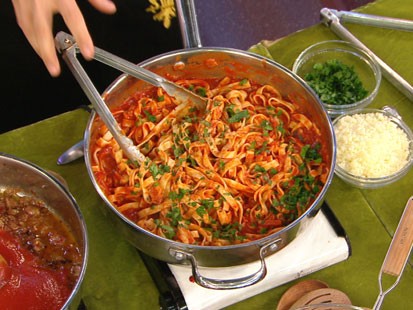 The "Top Chef" contestant prepares fettuccine amatriciana and other recipes.
From the kitchen of Fabio Viviani
Fabio Viviani was the handsome, charming Italian "Top Chef" contestant "fresh out of the boat," as he put it, who didn't take home top honors but did capture viewers' hearts.
Viviani was recently voted the "fan favorite" of the popular Bravo TV reality show and took home $10,000.
From Florence, Italy, Viviani, 31, is owner and executive chef of Café Firenze Italian Restaurant and Martini Bar, in Ventura County, Calif. Here he shares some of his best recipes.
Ingredients
8 oz. fresh fettuccine
1/2 stick butter
1/4 lb. pancetta, diced
1 small red onion, diced
1 tsp. red chili flakes
2 garlic cloves, minced
1 cup dry white wine
2 cups tomato sauce
Salt & pepper
1/2 cup fresh parsley, chopped
1/2 cup Parmesan Cheese (or Romano cheese), grated
Cooking Directions
Prepare a large pot of boiling, salted water for pasta and cook according to instructions.
Melt butter in a large heavy-bottomed skillet. Add pancetta, onion, chili flake to melted butter. Saute until pancetta is crisp on medium-high heat, about 6 to 10 minutes. Add garlic and sauté for 2 minutes.
Add wine and use a wooden spoon to scrape up any brown bits. Add tomato sauce. Season with salt and pepper, to taste. Stir in chopped parsley and cooked pasta. Toss with cheese, and serve!
*Recipe courtesy of Chef Fabio Viviani, owner & executive chef of Café Firenze in Moorpark, Calif.
Recipe Summary
Main Ingredients: fettucini, cheese, pancetta, white wine
Course: Dinner, Pasta, Main Course