Fabio Viviani's Roasted Tomato and Buffalo Mozzarella Salad with Pesto
A Great Start to Any Top Dinner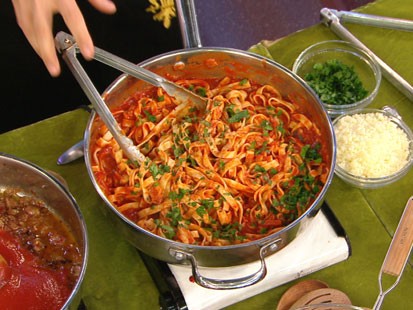 The "Top Chef" contestant prepares fettuccine amatriciana and other recipes.
From the kitchen of Fabio Viviani
Fabio Viviani was the handsome, charming Italian "Top Chef" contestant "fresh out of the boat," as he put it, who didn't take home top honors but did capture viewers' hearts.
He was recently voted the "fan favorite" of the popular Bravo TV reality show and took home $10,000.
From Florence, Italy, Viviani, 31, is owner and executive chef of Café Firenze Italian Restaurant and Martini Bar, in Ventura County, Calif. Here he shares some of his best recipes.
Ingredients
Salad
6 Roma tomatoes
Olive oil
2 garlic gloves, minced
Salt & pepper, to taste
2 balls buffalo mozzarella, in 3/4-inch slices (6 ounces per ball)
10 leaves fresh basil, approximately
Pesto
1 lb. fresh basil, rinsed and patted dry
1 1/2 cups extra virgin olive oil
1 cup pine nuts
2 cloves garlic
3 oz. Parmesan cheese, grated
Salt & pepper, to taste
Cooking Directions
Preheat oven to 425°F.
Cut the 6 Roma tomatoes in half lengthwise and place cut-side up on a rimmed baking sheet.
Drizzle liberally with olive oil, minced garlic, and salt and pepper to taste.
Roast in the oven at 425°F for about 25 minutes.
To assemble the salad: Place the tomato and the mozzarella in a tower with a basil leaf between each layer. Season every layer with the salt and pepper and a drizzle of olive oil.
Pesto
Combine all ingredients in a food processor and blend.
Drizzle over salad. Add more basil and some shaved Parmesan for garnish, if desired.
*Recipe courtesy of Chef Fabio Viviani, owner & executive chef of Café Firenze in Moorpark, Calif.
Recipe Summary
Main Ingredients: mozzarella, tomatoes, olive oil
Course: Appetizer/Starter, Dinner, Dressing, Salad, Vegetable