Lasagna
Chef Sara Moulton Also Shares Easy Tips on How to Keep Foods Fresh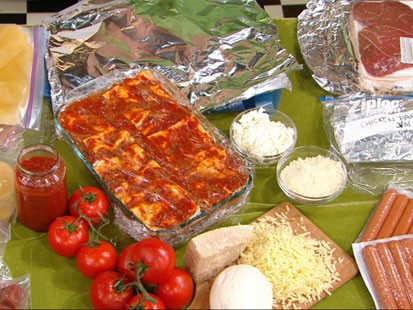 Sara Moulton shares her tips on how to store food.
From the kitchen of Sara Moulton
In the current economic climate everyone is looking for ways to save money. But the average family of four can throw away up to $500 a year of fresh fruit and vegetables.
Chef Sara Moulton comes to the rescue with easy tips on the best ways to store food in your freezer and refrigerator.
Ingredients
For Sauce
2 tablespoons olive oil
1 medium onion, finely chopped
4 garlic cloves, minced
1/2 pound sweet Italian sausage, casings removed
1 pound ground beef chuck
2 cans whole fire roasted tomatoes (28 ounces each)
1 teaspoon salt
Freshly ground black pepper
For Filling
1 pound whole milk ricotta
1 large egg, lightly beaten
1/2 cup Parmesan (finely grated)
1/4 teaspoon salt
1/4 teaspoon freshly ground black pepper
16 oven-ready lasagna noodles (no boil - two 9 ounce packages), or 1 pound regular lasagna noodles, boiled for 5 minutes and drained
1/4 cup Parmesan (finely grated)
1/2 pound lightly salted mozzarella, coarsely grated
Cooking Directions
Make sauce:
Heat oil in a large saucepan over moderately high heat.
Add onion and cook, stirring, until golden, about 6 minutes.
Add garlic and cook, stirring, for 1 minute.
Stir in sausage and beef and cook, stirring and breaking up the meat, until no longer pink, about 5 minutes.
Add tomatoes with their juice, salt and pepper, bring to a simmer, and simmer, stirring occasionally, until sauce is thickened, about 30 minutes.
Taste and adjust seasoning if necessary.
Make filling
Combine well, ricotta, egg, Parmesan and salt and pepper .
Preheat oven to 375°F.
Lightly oil a lasagna pan (13 by 9 inch shallow baking dish).
Spread 1 1/4 cups sauce in baking dish.
Arrange 4 lasagna noodles, slightly overlapping over sauce, then spread one third of ricotta mixture over noodles.
Sprinkle 2 tablespoons Parmesan over ricotta, top with 1 1/4 cups sauce. Top with 4 more noodles and spread with another third ricotta mixture and 2 tablespoons Parmesan. Top with 4 more noodles, remaining ricotta mixture, and 1 1/4 cups sauce. Top with remaining 4 noodles, then spread with remaining sauce and sprinkle mozzarella evenly over sauce.
Cover lasagna with oiled foil and bake on middle shelf of oven 40 minutes. Remove foil and bake until top is bubbling and lightly browned, 10 to 15 minutes more.
Let stand for 15 minutes before serving.
Copyright © 2009 ABC News Internet Ventures
Recipe Summary
Main Ingredients: sauce, cheese, tomatoes, sausage, chop meat
Course: Dinner, Lunch, Main Course, Casserole