Asian Chicken Thighs
Tasty Chicken Recipes From Real People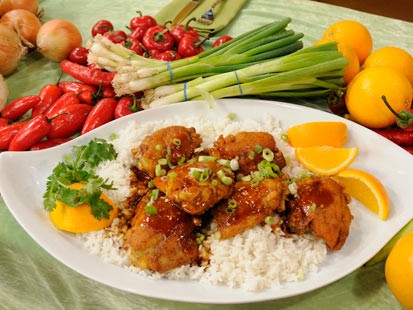 From the kitchen of Taste of Home
Real recipes by real people — that's the whole idea behind Taste of Home, the world's No. 1 cooking magazine where readers send in their original homespun recipes.
Now you too can get a taste of their homes with three delicious ways to cook chicken featured in "The Taste of Home Cookbook."
Ingredients
5 bone-in chicken thighs, skin removed
5 teaspoons olive oil
1/3 cup warm water
1/4 cup brown sugar, packed
2 tablespoons orange juice
2 tablespoons soy sauce
2 tablespoons ketchup
1 tablespoon white vinegar
4 garlic cloves, minced
1/2 teaspoon crushed red pepper flakes
1/4 teaspoon Chinese five-spice powder
2 teaspoons cornstarch
2 tablespoons cold water
Hot cooked rice
Sliced green onions, for garnish
Cooking Directions
In a large skillet, brown chicken in oil over medium heat for 18-20 minutes or until juices run clear. Meanwhile, in a jar with a tight-fitting lid, combine the warm water, brown sugar, orange juice, soy sauce, ketchup, vinegar, garlic, pepper flakes and five-spice powder; shake until sugar is dissolved.
Pour over chicken. Bring to a boil. Reduce heat; simmer, uncovered, for 30-35 minutes or until chicken is tender, turning occasionally.
Combine cornstarch and cold water until smooth; gradually stir into skillet. Bring to a boil; cook and stir for 2 minutes or until thickened. Serve with rice. Garnish with green onions.
Nutrition Facts: 1 serving (calculated without rice and green onions) equals 203 calories, 10 g fat (2 g saturated fat), 46 mg cholesterol, 482 mg sodium, 15 g carbohydrate, trace fiber, 14 g protein.
Recipe Summary
Main Ingredients: chicken, brown sugar, orange juice, chinese five-spice powder
Course: Dinner, Lunch, Main Course