Cat's Corn Cakes With Ancho Sour Cream
Recipes For Your New Year's Party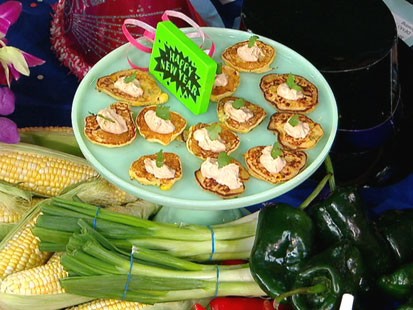 From the kitchen of Cat Cora
|
New Year's celebrations are not only about large, sparkly balls dropping and champagne toasts; to throw a truly great New Year's party you're going to need some good food.
Luckily, celebrated chef Cat Cora is here to share some delicious recipes to make the very end of 2008 a finish to remember. Check out her recipe for corn cakes with ancho sour cream.
Ingredients
Ancho Sour Cream:
1 cup sour cream, reduced fat or nonfat
1 ½ teaspoons ancho chili powder
1 tablespoon finely chopped fresh cilantro
Corn Cakes:
¾ cup all-purpose flour
½ cup yellow corn meal
½ teaspoon baking powder
1 teaspoon salt
1 teaspoon sugar
1 ¼ cups reduced fat buttermilk
2 tablespoons canola oil
1 large egg
1 cup corn kernels, either frozen and thawed or fresh cut off the cob
2 scallions, white and light green parts, chopped
Nonstick cooking spray
Cooking Directions
To prepare the ancho sour cream: combine the sour cream and ancho powder in a small bowl. Stir in cilantro and mix well to combine. Cover and refrigerate until serving.
To prepare the corn cakes: mix the flour, corn meal, baking powder, salt and sugar in a bowl. In another bowl, mix the buttermilk, oil and egg. Gradually add the wet ingredients into the dry ingredients and mix until blended. Add the corn and scallions to mixture, stirring to distribute evenly. If mixture is too thick, thin out with a little buttermilk.
Place a large nonstick skillet over medium heat and coat with nonstick cooking spray. Using a ladle, pour about 1/4 cup of the corn batter into the hot pan, giving you 3-inch cakes. Cook until golden brown, about 2 to 3 minutes on each side. Serve immediately with dollops of ancho sour cream on top.
Recipe courtesy Cat Cora
Other Recipes That You Might Like