Muffin Meal
Quick, Easy and Cheap Brown Bag Recipes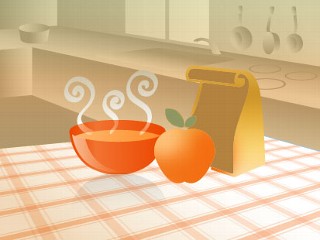 From the kitchen of Sara Moulton
Back-to-school time is here, and "Good Morning America" food editor Sara Moulton has five quick, inexpensive meals that parents can make for their children's lunches. Brown bagging just got a whole lot better! Check out this simple lunchtime meal.
Ingredients
Vegetable oil cooking spray
1 cup unbleached white flour
1 cup cornmeal (preferably stone-ground)
1/2 teaspoon kosher salt
1 tablespoon baking powder
1 tablespoon sugar
1 1/3 cups whole milk
2 large eggs, beaten lightly
1/4 cup butter, melted
1 1/2 cups sharp cheddar cheese (coarsely grated)
1 1/2 cups corn kernels (fresh or defrosted frozen)
2 cups broccoli, cooked and finely chopped
2 ounces ham or Canadian bacon (optional), finely chopped
Cooking Directions
Preheat oven to 400 degrees F. Spray a 12-cup (1/2 cup) muffin tin with oil or line with muffin papers.
Combine the flour, cornmeal, salt, baking powder and sugar in a large bowl and stir well.
In another bowl combine the milk, eggs and melted butter. Add the mixture to the flour mixture and stir until combined well. Stir in the cheddar, corn, broccoli and ham, if using.
Spoon the mixture into the muffin tin, in scant 1/3 cup amounts. Bake on the middle shelf of the oven for 15 to 18 minutes or until a skewer inserted in the middle comes out clean. Let cool in the pan on a rack for 10 minutes, remove the muffins and let them cool completely. Makes 12 muffins.
Courtesy of Sara Moulton
Recipe Summary
Main Ingredients: cheddar cheese, broccoli, cornmeal
Course: Brunch, Lunch
More Info: Kid Friendly