Woodruff Family Chocolate Chip Cookies
Woodruff Family Chocolate Chip Cookies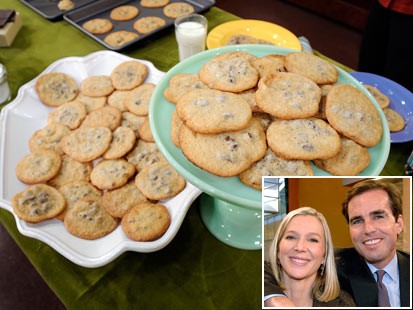 From the kitchen of Bob and Lee Woodruff
|
Photo albums, children's drawings, Grandpa's favorite rocking chair - we hold on to these memories of home. And when you think about your childhood, don't you think of that dish Mom made better than anyone else in the world?
For the Woodruff family, it is Bob's mom, Frannie, and her chocolate chip cookies. Bob and Lee Woodruff are here to share the recipe and the importance of passing down family favorites.
Ingredients
2 sticks unsalted butter, softened
3/4 cup granulated sugar
3/4 cup light brown sugar
1 teaspoon vanilla extract
2 eggs
2 cups cake flour
1 teaspoon baking soda
1 teaspoon salt
2 cups chocolate chips
Cooking Directions
Preheat oven to 350° F.
In a large mixing bowl, cream the butter and sugars together until light and fluffy. Add eggs one at a time, mixing until each is incorporated, then add vanilla.
In a separate bowl, combine cake flour, baking soda and salt. Stir with a wire whisk. Add the dry ingredients to the butter/sugar mixture all at once, and mix until they are just combined. Do not over mix.
Fold in chocolate chips with a rubber spatula. Drop 1-tablespoon-size mounds of dough onto a nonstick cookie sheet.
Bake at 350° until golden brown, about 10-12 minutes.
Other Recipes That You Might Like