Emeril's Lemon Ricotta Cheesecake With Fresh Berry Sauce
A Creamy Dessert to End an Eastser Feast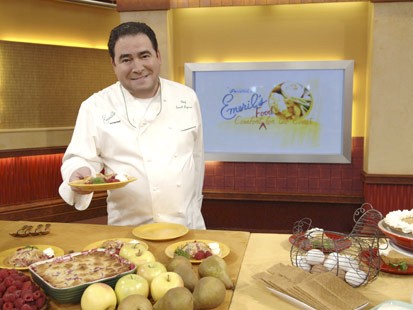 From the kitchen of Emeril Lagasse
Top Chef Emeril Lagasse cooks up some recipes that are a flavorful addition to any springtime menu, and perfect for an Easter dinner.
Here is his recipe for Lemon Ricotta Cheesecake with Fresh Berry Sauce.
Ingredients
1 1/2 cups graham cracker crumbs
1/4 cup granulated sugar
1 teaspoon ground cinnamon
6 tablespoons melted butter
1 1/2 pounds cream cheese, at room temperature
1 cup granulated sugar
5 large eggs
1 lemon, for the zest
3/4 pound ricotta cheese
Fresh Berry Sauce, for serving
Cooking Directions
Preheat the oven to 375 degrees F.
In a bowl, mix together the crumbs, sugar and cinnamon. Add the butter and mix well. Using the back of a spoon, press evenly into the bottom and slightly up the sides of a 9-inch spring-form pan. Bake until golden, about 8 minutes. Remove from the oven and cool before filling.
In a cake mixer fitted with a paddle attachment cream the cream cheese and sugar on low speed until well incorporated, smooth and light, about 2 minutes. Add the eggs and lemon zest and continue to beat until well incorporated, scraping down the sides as necessary. Slowly add the ricotta cheese to the batter and mix until smooth.
Pour the batter into the prepared pan and bake in the middle of the oven until starting to set, about 45 minutes. Lower the oven temperature to 325°F and cook for another 20 to 25 minutes. Remove from the oven. Using a thin sharp knife, run the blade along the inside of the cake pan to loosen the sides. Loosen the outer ring, and let the cake cool in the pan on a wire rack. Once the cheesecake is cooled to room temperature, cover with plastic wrap and refrigerate until thoroughly chilled, at least 6 hours or overnight.
Remove the cake from the refrigerator, and let come to room temperature before serving. Slice the cake and serve on dessert plates, with a spoonful of Emeril's Fresh Berry Sauce drizzled over all.
Recipe Summary
Main Ingredients: sugar, eggs, graham crackers, ricotta cheese