Meat Loaf With Potato Crust
Feed Eight for Under $10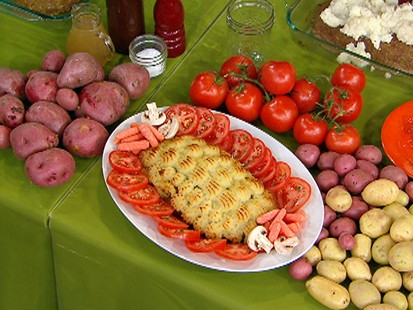 Catherine Cassidy shares her cheap and easy recipes.
From the kitchen of Taste of Home
|
Got a big dinner group but want to save some cash? No problem.
You may be surprised to find you can feed up to eight people and spend just $10. Catherine Cassidy from "Taste of Home" magazine demonstrated three recipes on "Good Morning America."
Ingredients
Meatloaf
1 medium onion, finely chopped
1 garlic clove, minced
2 teaspoons olive oil
4 1/2 teaspoons curry powder
1/2 teaspoon salt
1/2 teaspoon ground allspice
1/2 teaspoon pepper
3/4 cup vegetable broth
2 green onions, thinly sliced
1 1/2 teaspoons fresh thyme, minced
2 eggs
3/4 cup soft bread crumbs
1 1/2 pounds ground beef
1/2 pounds ground veal
Potato Topping
1 1/2 pounds red potatoes, peeled and cubed
1 teaspoon salt
1/4 cup vegetable broth
2 tablespoons olive oil
1/4 teaspoon pepper
Cooking Directions
In a small skillet, sauté onion and garlic in oil until tender. Stir in the seasonings. Add broth; bring to a boil. Reduce heat; simmer, uncovered, for 5 minutes. Stir in green onions and thyme. Transfer to a large bowl; cool to room temperature.
Whisk in the eggs; stir in bread crumbs. Crumble beef and veal over mixture and mix well. Shape into a loaf and place in an ungreased 13-in.x 9-in. x 2-in. baking dish. Bake, uncovered, at 350 degrees for 30 minutes.
Meanwhile, place potatoes in a large saucepan and cover with water; add salt. Bring to a boil. Reduce heat. Simmer, uncovered, for 15-20 minutes or until tender; drain, reserving 1/2 cup cooking liquid. Mash potatoes with the broth, oil, pepper and reserved cooking liquid.
Using a large star tip, pipe mashed potatoes onto meat loaf. Bake 45 minutes longer or until a meat thermometer reads 160 degrees and meat is no longer pink.
Recipe courtesy of Taste of Home.
Other Recipes That You Might Like