Glittering Lemon Sandwich Cookies
Sweeten Up Your Holiday Season With These Treats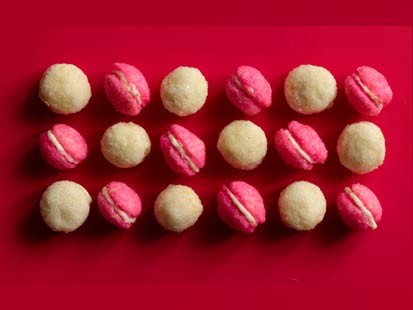 From the kitchen of Sara Moulton
Boost up your holiday with one of the best sweet treats — cookies. "GMA" food editor Sara Moulton dropped by the Times Square Studio to demonstrate how to bake gourmet cookies.
If Santa's elves grew citrus trees, these sparkling lemony bites would surely be among the branches. Sugared dough balls should be chilled 30 minutes or frozen 5 to 10 minutes to preserve their round shape. Keep chilled after baking.
This is just one of Gourmet's Favorite Cookies: 1941-2008. Although we've retested the recipes, in the interest of authenticity we've left them unchanged: The instructions below are still exactly as they were originally printed.
Ingredients
Cookies
1 1/3 cups all-purpose flour
2/3 cup cornstarch
1/4 teaspoon salt
2 sticks unsalted butter, softened
1/2 cup confectioners sugar
1 tablespoon grated lemon zest
1 teaspoon vanilla
White or colored sanding sugars
Filling
1 cup confectioners sugar
1 tablespoon grated lemon zest
1 tablespoon fresh lemon juice
2 tablespoons light corn syrup
1/2 stick unsalted butter, softened
a heavy-duty sealable bag
Cooking Directions
Make Cookies:
Preheat oven to 350°F with rack in middle. Line 2 large baking sheets with parchment paper.
Whisk together flour, cornstarch, and salt.
Beat together butter and confectioners sugar with an electric mixer until pale and fluffy, then beat in zest and vanilla. At low speed, mix in flour mixture just until a soft dough forms.
Put sanding sugars in different bowls. Roll a scant tsp of dough into a ball and drop into sugar, turning to coat. Reshape if necessary and transfer to a baking sheet. Repeat, spacing balls 3/4 inch apart, until baking sheet is filled.
Bake until tops are slightly cracked but still pale (bottoms will be pale golden), 12 to 15 minutes. Transfer cookies on parchment to a rack to cool completely.
Form and bake more cookies on second baking sheet.
Make Filling and Sandwich Cookies:
Beat together all filling ingredients in a large bowl with an electric mixer at medium speed until combined well. Transfer to sealable bag and snip off a corner.
Turn over half of cookies and pipe about 1/2 tsp filling on flat side of each. Sandwich with remaining cookies, pressing gently.
Cooks' note: Cookies keep in a metal cookie tin at room temperature 4 days.
Courtesy Gourmet magazine
Recipe Summary
Main Ingredients: cornstarch, vanilla, lemon
Course: Cookies, Dessert
More Info: Vegetarian