Sandra Lee's Spicy Molasses-Glazed Ham
Favorite Holiday Recipes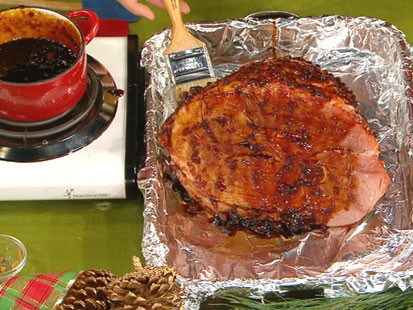 Sandra Lee shares some cheap and easy recipes.
From the kitchen of Sandra Lee
Sandra Lee shares some of her favorite recipes just in time for the holidays.
One family-size ham makes a succulent entrée, then encores as fun-to-eat skewers and a down-home casserole. A molasses glaze pairs with pineapple to make luau-like kabobs, then takes on a pepper Jack kick in a cheesy meat and potato hot dish.
Ingredients
7 to 8 pounds cooked ham
20 whole cloves (McCormick®)
1/2 cup molasses (Grandma's®)
1/4 cup dark brown sugar (C&H®), packed
1/4 cup ginger preserves (Robertson's®)
1/4 cup dark rum (Myers's®)
1 fresh habañero chile, stem and seeds removed, finely chopped
1 tablespoon ginger, minced
1/2 teaspoon dry mustard (Coleman's®)
Pineapple tops (optional)
Whole habañero chiles (optional)
Cooking Directions
Preheat oven to 325 degrees F. Line a roasting pan with aluminum foil; set aside.
Cut the thick layer of fat and skin from ham and discard. Score the ham in a diamond pattern by making shallow diagonal cuts at 1-inch intervals; insert whole cloves in centers of diamonds. Place ham in roasting pan. Roast in preheated oven for 1 hour.
Meanwhile, for glaze, in a medium saucepan, combine molasses, brown sugar, ginger preserves, rum, chile, ginger and dry mustard. Bring to a boil; reduce heat. Simmer, uncovered, stirring constantly until sugar and preserves are dissolved. Remove from heat.
After ham has roasted for 1 hour, baste with glaze and continue roasting about 1-1/2 hours more or until an instant-read thermometer inserted in ham (away from bone) registers 130 to 140 degrees F, basting ham with glaze every 15 minutes. Garnish with pineapple tops and habañero chiles (optional).
This recipe serves 20.
Copyright © 2008 Sandra Lee Semi-Homemade Money Saving Meals
Recipe Summary
Main Ingredients: ham, cloves, brown sugar, ginger
Course: Dinner, Main Course