Sam's Favorite Rockit Burger
Take Off With the Rockit Burger Recipe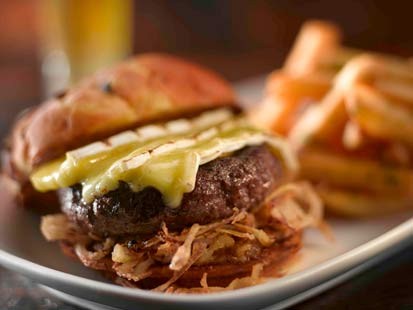 From the kitchen of Rockit Bar and Grill
"Good Morning America's" Sam Champion nearly drooled on the show today. The reason? He was holding the delicious Rockit Burger while hanging out in the awesome Smart Home exhibit in the Chicago Museum of Science and Industry.
Visit the Rockit Burger Bar and Grill by clicking here.
Ingredients
2 pounds Kobe beef
8 oz. brie cheese
4 onion brioche buns
8 medjool dates
1/4 cup olive oil
4 whole shallots
3 tablespoons wondra flour
Salt
Fresh ground pepper
4 tablespoons plus 4 cups vegetable oil, for frying
Ring mold (1 to 4 inches)
Cooking Directions
Place the mold on a cutting board, line with plastic and press the beef into the plastic wrapped mold. Press firmly and evenly so that there are no air gaps. Place in the cooler for an hour or more.
While the burgers are setting, prepare the date aioli and fried shallots. With a mortar and pestle, crush the pitted dates and slowly add the olive oil.
Heat the 4 cups of vegetable oil in a shallow pan. Thinly slice the shallots, toss with the flour. Fry for 1 minute until crispy and golden.
Heat your grill or pan to medium high heat. Drizzle the vegetable oil on the burgers; season the beef generously with the salt and pepper. Cook for about 3-4 minutes each side for medium rare. Add a slice of brie to each burger and let sit for 1 minute.
To assemble: Toast the buns, spread the date aioli on the bottom of each bun, top with fried shallots. Place the burger on top, serve with truffle fries.
Recipes courtesy of Rockit Bar and Grill.
Recipe Summary
Main Ingredients: kobe beef, brie cheese, dates, shallots
Course: Dinner, Main Course, Lunch