Corn Bread Casserole With Pickled Jalapenos
Cooking Country Recipes With the Deen Bros.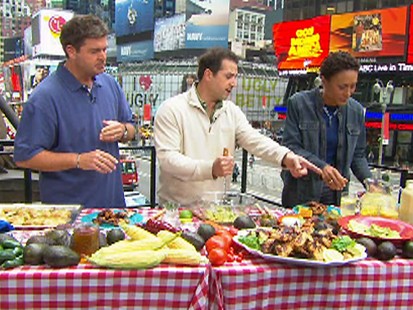 Lime Marinated Chicken Wings from "The Deen Bros: Y'All Come Eat."
From the kitchen of Jamie and Bobby Deen
Jamie and Bobby Deen dropped by "Good Morning America" to show just how good country cooking can be.
Ingredients
1 can whole kernel corn (15 1/2 ounces), drained
1 15-ounce can cream-style corn
1 8-ounce package corn muffin mix
1 cup sour cream
1/2 cup unsalted butter (1 stick), melted
1/4 cup sliced pickled jalapenos
Pinch salt
Cooking Directions
Preheat oven to 350F. Grease a 9-inch square baking pan;* set aside. 2. In a large bowl, stir together the whole corn, creamed corn, muffin mix, sour cream, butter, jalapenos and salt. Pour batter into the prepared pan. Bake for 45 to 60 minutes or until a toothpick inserted in the center comes out clean.
*If desired, pour batter evenly into eight 6- to 8-ounce ramekins. Bake for 40 to 45 minutes.
Courtesy "The Deen Brothers: Y'all Come Eat"
Recipe Summary
Main Ingredients: corn, jalapenos, sour cream
Course: Appetizer/Starter, Casserole, Side Dish, Starch
More Info: Vegetarian