Emeril Lagasse's Easter Feast Smashed Potatoes with Sour Cream and Chives
Piping Hot Potatoes at Your Family Feast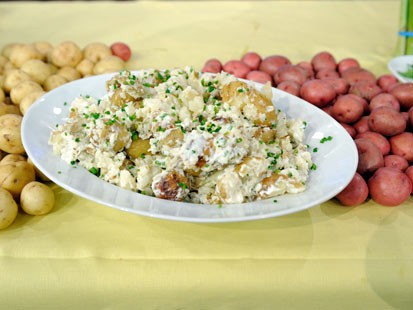 From the kitchen of Emeril Lagasse
Ingredients
4 pounds new potatoes (uniform size and no larger than approximately 2 inches in diameter)
1/4 cup plus 1 tablespoon olive oil
1 tablespoon plus 1 teaspoon Kosher salt
1/2 teaspoon black pepper (freshly ground)
1/4 cup chives, chopped
6 tablespoons butter, diced
1 tablespoon garlic, minced
1 cup sour cream
Cooking Directions
Preheat oven to 425 degrees F.
In a medium size bowl toss potatoes in 1/4 cup of the olive oil along with 1 tablespoon of the Kosher salt and the pepper.
Transfer potatoes to a rimmed baking sheet; set bowl aside for later use. Roast potatoes for 20 minutes, then shake the pan to rearrange the potatoes. Continue to roast until potatoes are easily pierced with a knife, 15 to 20 minutes longer. Remove from the oven.
While potatoes are baking, add the remaining olive oil, remaining salt, chives, butter and garlic to the reserved bowl.
Working on a clean work surface, use the back of a large metal spoon to smash each hot potato slightly. Transfer the smashed potatoes to the bowl containing the reserved garlic mixture and mix thoroughly to combine. Fold in the sour cream.
Serve immediately.
Note: this recipe was tested using potatoes of uniform size (no larger than approximately 2 inches in diameter)
Recipe courtesy Emeril Lagasse, copyright Martha Stewart Living Omnimedia, Inc.
Recipe Summary
Main Ingredients: potatoes, chives, butter, olive oil
Course: Side Dish, Starch, Vegetable
More Info: Vegetarian