'Hungry Girl' Lisa Lillien's 200 Calorie or Less So Low Mein With Chicken
From the Book 'Hungry Girl: 200 Under 200'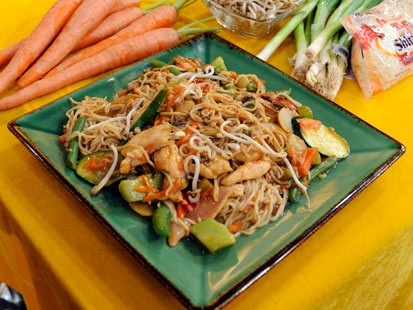 From the kitchen of "Hungry Girl"
Ingredients
3 packages House Foods Tofu Shirataki Spaghetti Shaped Noodle Substitute
1 bag frozen Chinese-style stir-fry mixed veggies (about 12 ounces)
8 ounces raw boneless skinless lean chicken breast, cut into strips
1 cup bean sprouts
1/2 cup mushrooms, chopped
1/2 cup zucchini, thinly sliced
1/2 cup scallions, chopped
1/2 cup carrots, shredded
1/4 cup reduced-sodium or light soy sauce
1 tablespoon cornstarch
2 teaspoons chicken-flavored consommé (powdered)
2 no-calorie sweetener packets
Cooking Directions
Rinse and drain Shirataki noodles well. Dry noodles thoroughly, using paper towels to soak up as much moisture as possible. Use a knife or kitchen shears to slice them up a bit. Set aside.
To make sauce, combine soy sauce, cornstarch, consommé and sweetener with 1/2 cup hot water. Stir well and set aside.
Bring a large pan or a wok sprayed with nonstick spray to medium-high heat.
Add frozen veggies, chicken, bean sprouts, mushrooms, zucchini, scallions, and carrots. Sauté for 5 to 7 minutes, stirring frequently, until chicken is cooked through and frozen veggies are thawed and hot.
Pour sauce into the pan or wok. Stir well and continue to cook until sauce has thickened, about 3 to 4 minutes.
Add noodles and cook, stirring occasionally, until entire dish is thoroughly mixed and hot.
Serve it up and enjoy!!
Secret Ingredients
House Foods Tofu Shirataki Spaghetti Shaped Noodle Substitute, reduced-sodium or light soy sauce, one bag (about 12 ounces) frozen Chinese-style stir-fry mixed veggies
Recipe Summary
Main Ingredients: veggies, chicken, bean sprouts, mushrooms, zucchini, scallions, carrots
Course: Brunch, Dinner, Party Platter, Side Dish, Vegetable
More Info: Low Calorie