Home
>
GMA
>
Recipes Home
>
'Hungry Girl' Lisa Lillien's 200 Calorie or Less H-O-T Hot Boneless Buffalo Wings
'Hungry Girl' Lisa Lillien's 200 Calorie or Less H-O-T Hot Boneless Buffalo Wings
From the Book 'Hungry Girl: 200 Under 200'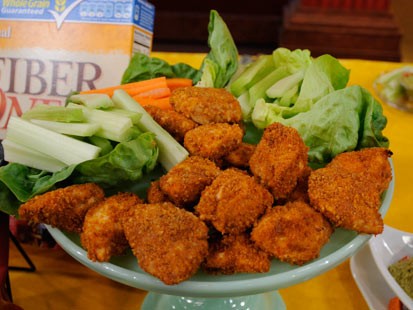 From the kitchen of "Hungry Girl"
|
Being a skinny girl doesn't mean you have to be a hungry girl.
Author Lisa Lillien offers dozens of low-calorie recipes in her new book, "Hungry Girl: 200 Under 200: 200 Recipes Under 200 Calories."
Get a taste of how delicious low cal can be by trying out her H-O-T Hot Boneless Buffalo Wings recipe below.
Ingredients
8 ounces raw boneless skinless lean chicken breast, cut into 10 nuggets
1/4 cup Fiber One bran cereal (original)
1 ounce Pringles Light Fat Free Barbeque Potato Crisps (or another fat-free BBQ-flavored potato chip), about 14 crisps
3 tablespoons Frank's RedHot Original Cayenne Pepper Sauce
Dash onion powder
Dash garlic powder
Dash cayenne pepper
Dash black pepper
Dash salt
Cooking Directions
Preheat oven to 375 degrees.
In a blender or food processor, grind Fiber One to a bread crumb-like consistency.
Crush potato crisps completely. In a small dish, mix crushed crisps with cereal crumbs. Add onion powder, garlic powder, cayenne, black pepper, and salt, and mix well.
Place chicken pieces in a separate dish. Cover with Frank's RedHot and toss to coat.
Spray a baking sheet with nonstick spray.
Give each chicken piece a shake so it's not dripping with sauce, and then coat evenly with crumb mixture. Lay crumb-covered nuggets on the baking sheet.
Bake in the oven for 10 minutes.
Flip nuggets over and bake for 10 more minutes, or until outsides are crispy and chicken is cooked throughout.
Per serving: (5 wings): 175 calories, 1.5g fat, 1,153mg sodium, 14g carbs, 4g fiber, <1g sugars, 27g protein
Secret Ingredients
Secret ingredient -- Fiber One bran cereal (original), Pringles Light Fat Free Barbeque Potato Crisps
Other Recipes That You Might Like