'Hungry Girl' Lisa Lillien's 200 Calorie or Less Holy Moly Guacamole
From the Book 'Hungry Girl: 200 Under 200'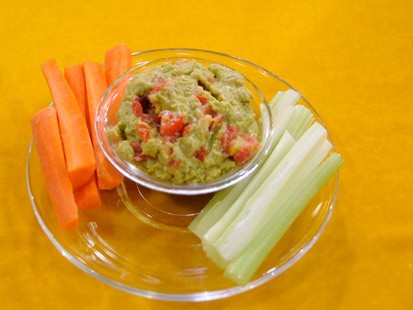 From the kitchen of "Hungry Girl"
Ingredients
One 15-ounce can early peas (young), drained
1/2 cup avocado (about 1 medium-small avocado's worth), mashed
1/3 cup chopped cherry or grape tomatoes
1/4 cup finely chopped onion
1/4 cup plain fat-free Greek yogurt
4 teaspoons lime juice
1/2 teaspoon chopped garlic
1/2 teaspoon garlic powder
1/4 teaspoon salt
1/8 teaspoon black pepper
1/8 teaspoon ground cumin
1/8 teaspoon chili powder
Salt, to taste
Black Pepper, to taste
Fresh cilantro(optional), chopped
Jarred jalapeños (optional), chopped
Cooking Directions
Place peas in a medium bowl and mash thoroughly with a potato masher or fork.
Add avocado, yogurt, lime juice, garlic, and seasonings. Continue to mash until blended.
Stir in tomatoes, onion, and, if you like, some cilantro and/or jalapeños. Season to taste with salt and pepper.
Enjoy!
Per serving: (1/3 cup): 78 calories, 3g fat, 320mg sodium, 10.5g carbs, 3.5g fiber, 4g sugars, 3.5g protein
Secret Ingredients
Secret ingredient -- Plain fat-free Greek yogurt, can early (young) peas, drained
Recipe Summary
Main Ingredients: avocado, tomato, salt, garlic, pepper
Course: Snack, Appetizer/Starter, Party Platter
More Info: Low Calorie