Emeril's Caramelized Onions Skillet Corn Bread Diane
Get the Recipe: With $15 Worth of Groceries Chef Emeril Lagasse Creates Brand-New Recipe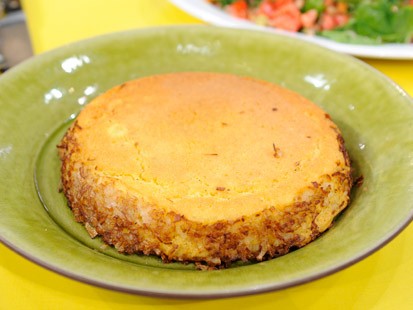 From the kitchen of Emeril Lagasse
As part of "GMA's" $15 Dinner Dare series, each day an anchor will unveil a list of secret ingredients. Then a chef will have to prepare a tempting meal live on the air with the newly unveiled ingredients.
Emeril Lagasse is the second chef to take on the challenge. Sam Champion gave him his list of surprise ingredients live on the air today.
Ingredients
1 cup cornmeal
1 cup flour
1 teaspoon salt
2 teaspoons baking powder
1 tablespoon vinegar
1 cup milk
1 medium onion, diced
1 stick butter
2 eggs
Cooking Directions
Preheat oven to 500 degrees with a 10-inch cast iron skillet in it for about 10 minutes.
In a large mixing bowl, combine cornmeal, flour, salt and baking powder. Stir with a whisk to combine ingredients.
In a small mixing bowl, mix eggs, milk and vinegar until combined. Add to dry ingredients.
Carefully remove pan from oven and melt one stick of butter in it. Add diced onion to pan and stir.
Immediately pour batter into cast iron skillet with the caramelized onions and butter in it.
Bake at 375 for 20 minutes until a knife inserted in middle comes out clean. Let rest for 10 minutes and then turn out onto a plate.
*Recipe courtesy of Emeril Lagasse
Recipe Summary
Main Ingredients: vinegar, onion, butter, baking powder, eggs
Course: Appetizer/Starter, Brunch, Dinner, Side Dish