Home
>
GMA
>
Recipes Home
>
Emeril's Organic Tomato, Spinach and Pinto Bean Salad a la Champion
Emeril's Organic Tomato, Spinach and Pinto Bean Salad a la Champion
Get the Recipe: With $15 Worth of Groceries Chef Emeril Lagasse Creates Brand-New Recipe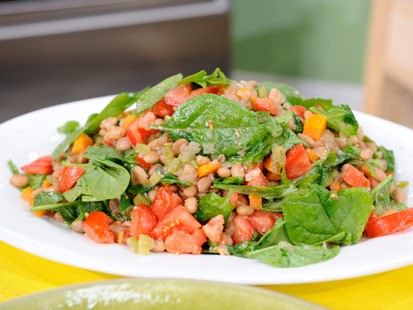 From the kitchen of Emeril Lagasse
|
As part of "GMA's" $15 Dinner Dare series, each day an anchor will unveil a list of secret ingredients. Then a chef will have to prepare a tempting meal live on the air with the newly unveiled ingredients.
Emeril Lagasse is the second chef to take on the challenge. Sam Champion gave him his list of surprise ingredients live on the air today.
Ingredients
1/2 pound dried pinto beans
2 quarts of chicken stock
2 cups diced yellow onion
1 tablespoon chopped garlic
1 large carrot, diced
3 ribs celery, diced
5 medium tomatoes, diced
1/2 pound baby spinach
2 tablespoons cumin
1 tablespoon salt
1 1/2 teaspoons ground black pepper
Olive oil
Dressing:
2 tablespoons olive oil
2 teaspoonss red wine vinegar
Salt and pepper to taste
Cooking Directions
Rinse and pick through beans. Soak overnight.
Rinse soaked beans and put into a 3-quart pot. Add one quart of water and one quart of chicken stock, simmer beans until tender, but not breaking apart. About one hour.
In another 3-quart pot, heat 1 tablespoon of olive oil. Add onion, garlic, carrot, celery and saute over high heat until softened, about 5 minutes. Pour cooked beans with cooking liquid into the pot with the vegetables. Add cumin and simmer for 30 minutes. Adjust seasoning as needed. Drain beans, reserving the liquid for another use, if desired.
Meanwhile, wash and dry spinach. Place half of the spinach on a large serving platter.
Put remaining spinach in a large bowl and fold hot beans into it, to wilt. Add 2 tablespoons of olive oil and 2 teaspoons red wine vinegar. Season with salt and pepper and toss with tomatoes.
Serve immediately.
*Recipe courtesy Emeril Lagasse
Serves 8 as a first course
Serves 4-6 as a main dish
Recipe Summary
Main Ingredients: pinto beans, chicken stock, carrot, celery, tomatoes, cumin, spinach
Course: Main Course, Lunch, Dinner, Brunch, Appetizer/Starter, Vegetable
Other Recipes That You Might Like