Cat Cora's Sam Champion African Fruit Salad
Get the Recipe: With $15 Worth of Groceries Chef Cat Cora Creates Brand-New Recipe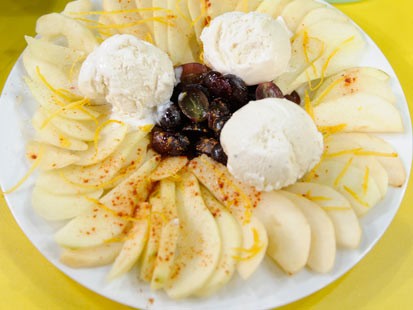 From the kitchen of Cat Cora
|
As part of "GMA's" $15 Dinner Dare series, each day an anchor will unveil a list of secret ingredients. Then a chef will have to prepare a tempting meal live on the air with the newly unveiled ingredients.
Cat Cora is the third chef to take on the challenge. Chris Cuomo gave her a list of surprise ingredients live on the air today.
Ingredients
1 cup halved red seedless grapes
2 Bosc pears, cored and thinly sliced
Juice from half a lemon
Zest of 1 lemon
1 tsp. cinnamon
1 tbsp. honey
Vanilla ice cream
Cooking Directions
Mound the grapes in the middle of a large serving platter.
In a small bowl, toss sliced pears with lemon juice. Arrange pear slices around the grapes in a shingled pattern on the platter.
Sprinkle entire platter of fruit with lemon zest and cinnamon, and a drizzle honey.
Serve with vanilla ice cream.
*Recipe courtesy of Cat Cora
Other Recipes That You Might Like