Cat Cora's Curried Mushrooms a la Cuomo
Get the Recipe: With $15 Worth of Groceries Chef Cat Cora Creates Brand-New Recipe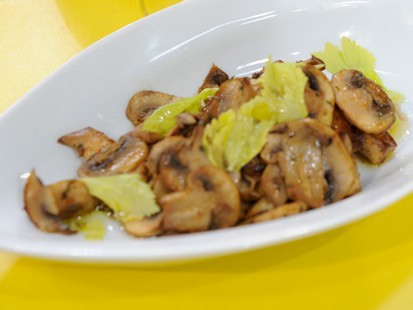 From the kitchen of Cat Cora
|
As part of "GMA's" $15 Dinner Dare series, each day an anchor will unveil a list of secret ingredients. Then a chef will have to prepare a tempting meal live on the air with the newly unveiled ingredients.
Cat Cora is the third chef to take on the challenge. Chris Cuomo gave her a list of surprise ingredients live on the air today.
Ingredients
3 tbsps. olive oil
10 oz. white button mushrooms, sliced
1 tsp. red curry
1/2 tsp. dried thyme
Salt and pepper to taste
Celery leaves for garnish
Cooking Directions
Heat olive oil in a large skillet over high heat until smoking. Add mushrooms and saute until nice and golden brown, about 3 to 5 minutes. Add curry and thyme to the pan, and season with salt and pepper.
Remove mushrooms to a plate and garnish with celery leaves, if desired.
*Recipe courtesy of Cat Cora
Other Recipes That You Might Like