Wolfgang Puck's Carrots
With $15 Worth of Groceries Chef Wolfgang Puck Creates Brand-New Recipe: Get It Here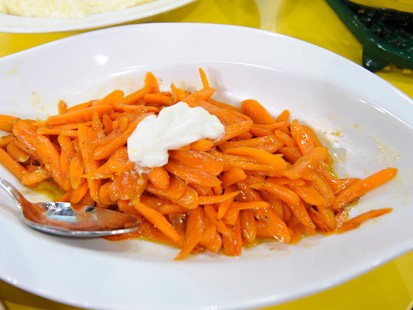 From the kitchen of Wolfgang Puck
As part of "GMA's" $15 Dinner Dare series, each day an anchor will unveil a list of secret ingredients. Then a chef will have to prepare a tempting meal live on the air with the newly unveiled ingredients.
Wolfgang Puck is the fourth and final chef to take on the challenge. Robin Roberts gave him a list of surprise ingredients live on the air today.
Ingredients
3 tbsps. olive oil
1 16 oz. package baby carrots, sliced lengthwise thinly
2 tbsps. honey
1/2 tsp. finely minced garlic
1/2 tsp. cumin
2 tbsps. olive oil, plus one for drizzling
Juice of half a lemon
Salt and pepper to taste
Cooking Directions
Heat 2 tablespoons of olive oil in a medium saute pan over medium-high heat. Add carrots and saute until slightly softened, about 3-5 minutes.
Add honey and cook carrots until crisp tender. Remove from heat and toss carrots with garlic and cumin. Season with salt and pepper and place on a serving platter.
Drizzle carrots with 1 tablespoon of olive oil and the juice of half a lemon.
Serve.
*Recipe courtesy of Wolfgang Puck
Recipe Summary
Main Ingredients: carrots, honey, lemon, olive oil
Course: Side Dish