Wolfgang Puck's Stir Fry
With $15 Worth of Groceries Chef Wolfgang Puck Creates Brand-New Recipe: Get It Here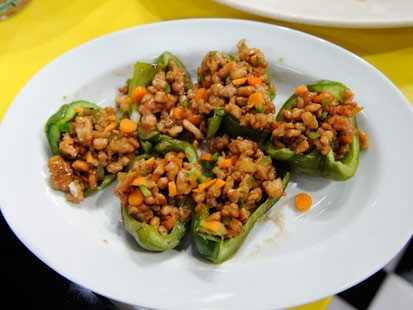 From the kitchen of Wolfgang Puck
As part of "GMA's" $15 Dinner Dare series, each day an anchor will unveil a list of secret ingredients. Then a chef will have to prepare a tempting meal live on the air with the newly unveiled ingredients.
Wolfgang Puck is the fourth and final chef to take on the challenge. Robin Roberts gave him a list of surprise ingredients live on the air today.
Ingredients
1/2 lb. center-cut, boneless pork chops, 1/2-inch thick
2 green bell peppers
1/2 c chopped yellow onion
1/4 c. green bell pepper
1/4 c. chopped carrots
2 tsps. minced garlic
2 tbsps. soy sauce
1 tbsp. toasted sesame oil
Splash white wine vinegar
1/4 tsp. red chili flake
1 tbsp. cornstarch
1 tbsp. light brown sugar
Salt and pepper
Olive oil
Cooking Directions
Preheat oven to 500 degrees.
Chop half of one bell pepper into a small dice. Cut the remaining peppers into 6 wedges.
Heat 1 tablespoon of olive oil in an 8-inch skillet over high heat. Place pepper wedges skin side down in the hot oil and season with salt and pepper. Continue cooking, turning occasionally, until slightly golden, about 5 minutes. Turn wedges skin side up and place in hot oven for 7-10 minutes.
Place wedges skin side down on a serving platter and reserve pan.
While peppers are cooking in the oven, place pork in a medium mixing bowl. Add soy sauce, sesame oil, white wine vinegar, chili flake, cornstarch and brown sugar. Toss and set aside.
Heat 2 tablespoons of olive oil in the reserved pan over high heat. Add marinated pork and stir-fry until lightly golden. Add all diced vegetables and season with salt and pepper. Continue cooking over high heat until pork is cooked through and the vegetables are slightly softened.
Spoon stir fry into pepper wedges and serve.
*Recipe courtesy of Wolfgang Puck
Recipe Summary
Main Ingredients: yellow onion, green bell pepper, brown sugar, garlic, soy sauce, sesame oil
Course: Dinner, Main Course, Side Dish