Emeril's Gulf Coast Crawfish or Crab Boil
From 'Louisiana Real and Rustic'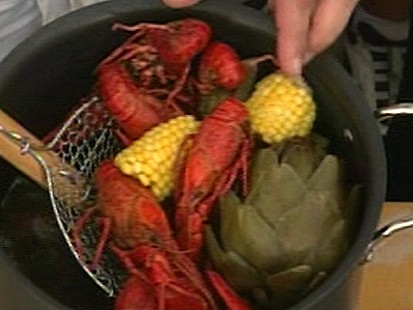 The chef of Emeril's Gulf Coast Fish House prepares a Gulf Coast crawfish boil.
From the kitchen of Emeril Lagasse
In June 2008, Emeril Lagasse called upon Steve D'Angelo to lead the kitchen at Emeril's Gulf Coast Fish House as chef de cuisine.
D'Angelo holds a deep appreciation for the bounty of the gulf waters, sourcing local oysters, fish and shrimp straight from the docks, along with fresh exotic catch flown to the restaurant daily, and locally grown produce and farm products.
Ingredients
2 recipes Seafood Boil Seasoning Mix, recipe follows
8 quarts water
1 dozen small red potatoes, scrubbed (may substitute sweet potatoes)
2 large onions, unpeeled, cut in half crosswise
2 lemons, halved
1 1/4 cups, plus 1 tablespoon salt
1/4 cup, plus 1 tablespoon cayenne
1 large head garlic, cut in half crosswise
Artichokes, quartered cabbage, mushrooms, celery ribs (optional)
1/2 pound andouille or kielbasa sausage
4 ears fresh corn, shucked and cut in half
10 pounds crawfish or crabs
Seafood Boil Seasoning Mix
1/4 cup mustard seeds
3 tablespoons coriander seeds
2 tablespoons whole allspice
2 tablespoons dill seeds
1 teaspoon whole cloves
6 small dried red chilies crumbled, or 1 tablespoon crushed red pepper
8 bay leaves
Cooking Directions
Put the bags of seasoning mix, the water, potatoes, onions, lemons, 1 1/4 cups of the salt, 1/4 cup of the cayenne, and the garlic in a large stockpot (and sweet potatoes, artichokes, cabbage, mushrooms, celery, if desired). Bring to a boil, cover, and boil for 15 minutes.
Add the sausage, corn, and crawfish or crabs. Using a long-handled spoon, stir around and press the contents of the pot down well into the water. Cover the pot and return to a boil. Boil for 2 minutes.
Turn off the heat. Add the remaining 1 tablespoon salt and 1 tablespoon cayenne. Using the long-handled spoon, push down the contents in the pot. Cover and let stand for 15 minutes. Drain.
Divide the potatoes, onions, corn, and sausage into equal portions and serve with the seafood on large platters or trays.
Seafood Boil Seasoning Mix
Combine all of the ingredients together in a jar. Cover and shake well to mix.
When ready to use, place in a square of cheesecloth, draw up the corners and secure with kitchen twine. Add this bag to the pot of boiling water.
Can be stored in an airtight jar in your spice cabinet for up to 3 months.
Yield : 1 cup
*Recipe courtesy Emeril Lagasse, originally appearing in "Louisiana Real and Rustic," William Morrow Publishers, New York, 1996, courtesy Martha Stewart Living Omnimedia, Inc.
Recipe Summary
Main Ingredients: crawfish, crabs, corn, seafood, kielbasa, sausage, seafood boil seasoning mix
Course: Soup, Main Course, Lunch, Dinner