Emeril's Grilled Marinated Skirt Steak with Wilted Spinach
Recipe Courtesy Emeril Lagasse, Adapted From 'Emeril at the Grill'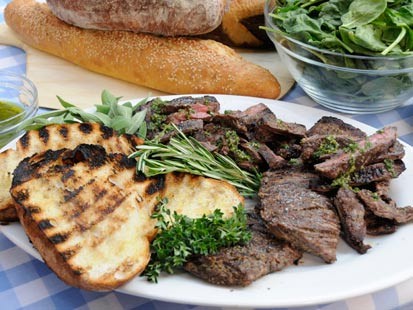 From the kitchen of Emeril Lagasse
|
Ingredients
8 cloves garlic, sliced in half lengthwise
1 tablespoon fresh rosemary, chopped
1 tablespoon fresh sage, chopped
1 tablespoon fresh thyme, chopped
3/4 cup extra-virgin olive oil
1/2 cup sherry vinegar
One 1 3/4- to 2- pound skirt steak
1 tablespoon kosher salt
2 teaspoons black pepper, freshly ground
2 tablespoons butter, unsalted
2 teaspoons garlic, minced
12 ounces or 12 cups fresh spinach, coarse stems removed, well rinsed, with
water still clinging to the leaves
1/2 teaspoon salt
Pinch white pepper, freshly ground
Crusty bread, for serving
Cooking Directions
Combine the halved garlic cloves, rosemary, sage, and thyme in a food processor, and process until smooth. Add the olive oil and sherry vinegar, and process to combine.
Season the skirt steak with the kosher salt and black pepper. Place it in a resealable plastic bag and add the garlic-herb marinade. Seal the bag, and refrigerate for at least 2 and up to 4 hours, turning occasionally.
Preheat a grill to medium high.
Remove the steak from the refrigerator and allow it to come to room temperature for 30 minutes.
Remove the steak from the marinade (discard the marinade), and wipe any excess marinade off the steak with paper towels. Place the steak on the grill and cook for 4 minutes. Rotate the steak 45 degrees and cook for another 4 minutes. Turn the steak over and cook for 4 to 6 minutes for medium- rare. Transfer the steak to a cutting board and let it rest for 5 to 7 minutes before slicing.
While the steak is resting, prepare the spinach: Set a large 12-inch skillet over medium-high heat and melt the butter in it. Add the minced garlic and cook, stirring, until it is soft and fragrant, about 1 minute. Add the spinach, 1/2 teaspoon of the salt, and the white pepper. Cook, stirring, until the spinach is wilted and tender, 3 to 4 minutes. Remove the skillet from the heat.
When ready to serve, thinly slice the steak across the grain. Serve it with crusty bread and the wilted spinach.
*Recipe courtesy Emeril Lagasse, adapted from "Emeril at the Grill," HarperStudio Publishers, New York, 2009, courtesy Martha Stewart Living Omnimedia, Inc.
Other Recipes That You Might Like