Splenda's Cranberry Apple Relish
From Splenda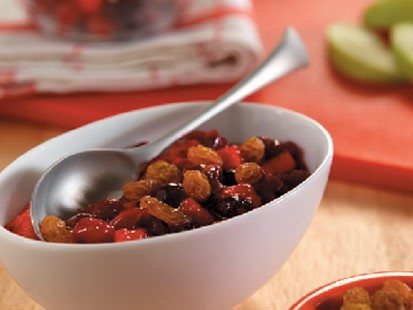 From the kitchen of Splenda
|
"The natural flavors of cranberries, apples, raisins, and orange are lightly sweetened yielding a relish you'll want to serve with meats and seafood throughout the year. "
Ingredients
1 bag fresh cranberries (12 ounce)
1 cup SPLENDA® No Calorie Sweetener, Granulated
1 cup water
3 tablespoons orange juice concentrate
1 medium apple, peeled, cored and diced
1/3 cup golden raisins
Cooking Directions
Place cranberries, SPLENDA® Granulated Sweetener, water and orange juice concentrate in a medium saucepan. Bring to a boil and boil 3-4 minutes or until cranberries start to thicken and water has reduced by about half.
Remove from pan and place in medium bowl. Cover and refrigerate 2-3 hours or overnight.
Add diced apple and half of the raisins to cranberries. Stir well. Refrigerate until ready to serve. Just before serving, sprinkle remaining raisins over cranberries as a garnish. Serve chilled as an accompaniment to roast meats or poultry.
Serving size: 2 tablespoons relish
Other Recipes That You Might Like