Sunny Anderson's Flank Steak Fajitas
For Memorial Day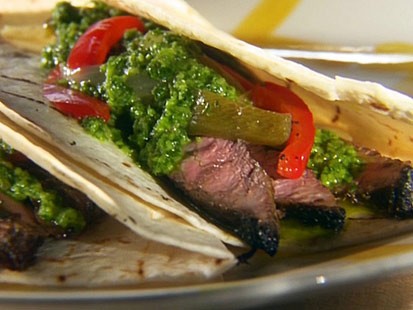 From the kitchen of Sunny Anderson
|
Ingredients
For the chimichurri marinade:
1 bunch fresh parsley, leaves only
1 bunch fresh cilantro, leaves only
5 cloves garlic
1/2 red onion, roughly chopped
2 teaspoons hot paprika
2 tablespoons sherry vinegar
1/2 cup olive oil
1 tablespoon salt
1 teaspoon freshly ground black pepper
2 pounds flank steak
12 flour tortillas (8-inch)
Cooking Directions
To make the chimichurri: In a food processor, add parsley, cilantro, onion, garlic, hot paprika, vinegar, 1/2 cup olive oil and salt and pepper and blend until smooth, Reserve half for drizzling on fajitas. Place remaining marinade in a resealable plastic bag and add steak. Coat well and marinate for at least 1 hour.
Preheat grill to medium-high.
Remove steak from marinade and discard marinade. Season steak with salt and pepper, and grill over medium-high heat until cooked to medium-rare (about 6 minutes per side). Let steak rest for 10 minutes, loosely covered with aluminum foil, before slicing.
Meanwhile, warm tortillas on the grill. Slice the steak on the bias into thin slices. To serve, place meat on each tortilla. Drizzle chimichurri sauce over the filling and form into a loose fold.
Other Recipes That You Might Like