Elizabeth Karmel's Ice-Box Coleslaw
For Memorial Day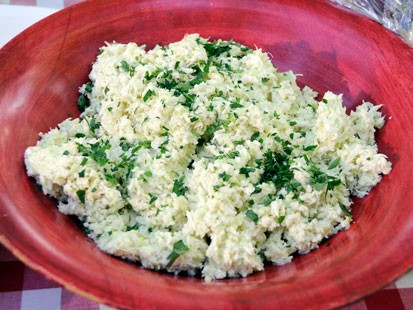 From the kitchen of Elizabeth Karmel
The Hill Country chef shares recipes from her new book, "Soaked, Slathered, and Seasoned: A Complete Guide to Flavoring Food for the Grill."
"This coleslaw is as good as it is easy. My grandmother's "secret" was to peel the leaves off a very fresh cabbage and crisp them in ice water before grating them on a box grater. When I was growing up, my mother served this creamy version of coleslaw with corn sticks and fried fish, but I make it more often to accompany grilled meat or as a picnic side dish."
Ingredients
1 fresh small green cabbage, about 1 pound
3/4 cup mayonnaise, preferably Hellmann's
2 tablespoons apple cider vinegar
1 teaspoon sugar
1/2 teaspoon sea salt, or more to taste
1/4 teaspoon white pepper, or more to taste
Cooking Directions
Fill a large bowl or 1 side of a clean double sink with ice water. Peel off the outer leaves of the cabbage and cut the remaining core in half. Soak the leaves in ice water for 15 minutes to crisp. Remove them from the water and drain on paper towels. Meanwhile, make the dressing by combining all the remaining ingredients in a small bowl. The dressing should be fairly thick. Set aside. Grate the cabbage on the coarsest side of a box grater into a large bowl or with a food processor. Pour the dressing into the bowl, mix well, and refrigerate for at least 2 hours or overnight before serving.
NOTE: Depending on the size of your cabbage, you may need to double the recipe for the dressing.
Recipe Summary
Main Ingredients: cabbage, mayonnaise, sugar, apple cider vinegar
Course: Party Platter, Salad, Side Dish