Best Labor Day BBQ: Deen Bros. Baby Back Ribs!
The Deen Brothers Grill Up Some Ribs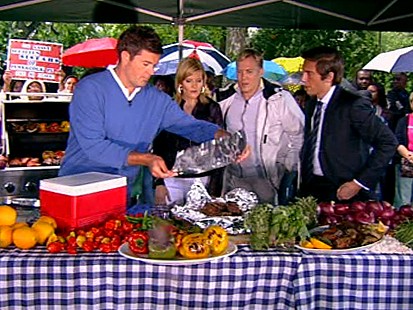 Brothers Jamie and Bobby Deen prepare dry-rub baby back ribs.
From the kitchen of Jamie & Bobby Deen
|
Get ready to hit the grill with this southern recipe for ribs from the Deen brothers!
Recipe courtesy Jamie and Bobby Deen.
Ingredients
1 tablespoon paprika
1 1/2 teaspoon dark brown sugar, packed
1 1/2 teaspoon orange zest, finely grated
1 1/2 teaspoon salt
3/4 teaspoon ground cumin
1/2 teaspoon ground black pepper
1/4 teaspoon cayenne pepper (or to taste)
4 pounds baby back ribs, cut into 2-rib portions
1 cup white vinegar
Cooking Directions
In a small bowl, stir together all ingredients except the ribs. Rub spice mixture all over the ribs. Cover and refrigerate ribs for at least 2 hours or up to 24 hours.
Cook on grill for 45 minutes. Baste with white vinegar and cook another 15 minutes. Double wrap in foil and hold in cooler with tight fitting lid for an hour. Cooler makes ribs tender and the hour allows time for cooking side dishes
Other Recipes That You Might Like