Elizabeth Karmel's Tex-Mex Chocolate Sheet Cake
From Hill Country and 'Chef's Table'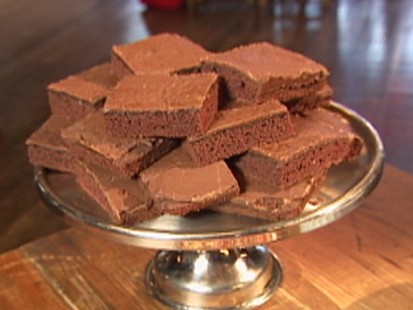 From the kitchen of Elizabeth Karmel
Ingredients
1/2 pound butter
1 cup sour milk (fresh milk plus 1 teaspoon white vinegar)
6 tablespoons unsweetened cocoa
2 eggs
1 1/2 teaspoon cinnamon
1/2 cup water
1 teaspoon vanilla
1 teaspoon baking soda
2 cups flour
2 cups sugar
1/2 teaspoon salt
For the icing:
1/4 pound butter
6 tablespoons milk
6 tablespoons unsweetened cocoa
1 pound confectioners sugar
1 teaspoon cinnamon
Cooking Directions
Preheat oven to 375 F.
Prepare an 11x18-inch jelly roll pan with Baker's Joy (or grease and flour the pan).
Bring butter, sour milk, cocoa and cinnamon to just under a boil in a small saucepan. In a small bowl, beat the eggs with water, vanilla, baking soda. In a large bowl, sift together flour, sugar and salt. Add butter/sour milk hot mixture and the beaten egg mixture to flour mixture in large bowl, mixing gently. Pour into prepared pan. Bake 20 minutes or until the cake tests done. Let cake cool for 5 minutes and then ice.
Meanwhile, make the icing: bring the butter, cocoa and milk to just under a boil in a small saucepan. Remove from heat and add vanilla. In a separate bowl, whisk together the Confectioners' Sugar, cinnamon and salt. Add butter mixture and blend thoroughly. Spread icing on the hot cake five minutes after it comes out of the oven.
Recipe Summary
Main Ingredients: cocoa, cinnamon, sugar, sour milk
Course: Dessert, Snack