Dinosaur's Bar-B-Que-Style Ribs
From Syracuse, N.Y.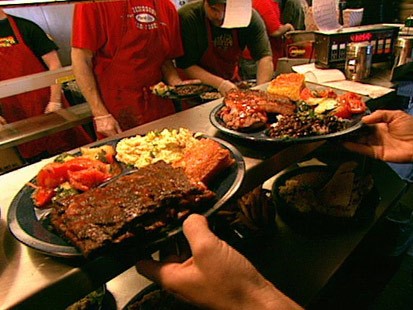 From the kitchen of Dinosaur's Bar-B-Que in Syracuse, N.Y.
According to the restaurant's cookbook "Dinosaur Bar-B-Que: An American Roadhouse":
"This is our reason for being. If you're a rib joint, you'd better have great ribs. What we strive for every day is a perfect balance of spice, smoke, sauce and pull-off-the-bone tender pork. Here's the blueprint and some tips to achieve some beautiful barbecue. All you need are a few hours and a dedicated pit boss spirit."
Ingredients
Dinosaur-Style Ribs
2 1/2 to 3 pounds pork spareribs, St. Louie cut
3 cups hickory wood chips (for grilling)
2 squares of aluminum foil
1 instant-read thermometer (for grill)
All-Purpose Red Rub (see below for recipe)
Mop Sauce (see below for recipe)
Mutha Sauce(see below for recipe)
All-Purpose Red Rub
1/2 cup paprika
1/2 cup kosher salt
1/2 cup light brown sugar
1/2 cup granulated garlic
6 tablespoons onion, granulated
1/4 cup chili powder
1 tablespoon ground cumin
1/2 teaspoon cayenne pepper
Mop Sauce
1 cup white vinegar
1/2 cup water
2 tablespoons vegetable oil
2 tablespoons Worcestershire sauce
2 tablespoons All-Purpose Red Rub
Tabasco sauce to taste
Mutha Sauce
1/4 cup vegetable oil
1 cup onion, minced
1/2 cup green pepper, minced
1 jalapeno pepper, seeded and minced
Pinch of kosher salt
Pinch of black pepper
2 tablespoons garlic, minced
1 can tomato sauce (28 ounces)
2 cups ketchup
1 cup water
3/4 cup Worcestershire sauce
1/2 cup cider vinegar
1/4 cup lemon juice
1/4 molasses
1/4 cup cayenne pepper sauce
1/4 cup spicy brown mustard
3/4 cup dark brown sugar, packed
1 tablespoon chili powder
2 teaspoons black pepper, coarsely ground
1/2 teaspoon ground allspice
1 tablespoon Liquid Smoke (optional)
Cooking Directions
All-Purpose Red Rub

Combine all the ingredients into a bowl and rub them together by hand. Store in a plastic or glass container until ready to use it. Makes 2 3/4 cups.
Mop Sauce

Combine ingredients together in a saucepan and bring to a boil. Cool and pour into a plastic container. Cover and refrigerate for later use. Makes 1 3/4 cups.
Mutha Sauce

Pour the oil into a large saucepan and set over medium-high heat. Add the onions, green peppers and jalapenos and stir. Season with a pinch of salt and pepper and cook until soft and golden. Add the garlic and cook for 1 minute more. Add everything else except the Liquid Smoke. Bring to a boil, then lower the heat so the sauce simmers. Simmer for 10 minutes. Swirl in the Liquid Smoke, and let the sauce cool. Pour into a container, cover and store in the fridge until ready to use. Makes 6 to 7 cups.
To prepare the ribs, coat evenly with the All-Purpose Red Rub.
To prepare the grill, remove the grill rack and fire up the grill. Then prepare smoking packets by placing 3 cups of hickory wood chips in a bowl and covering them with water. Soak for at least half an hour. Drain well and divide between 2 squares of aluminum foil. Form into 2 individual packets, and poke holes in one side. Set aside.
Spread out the coals once they're hot, piling them on one side of the bottom of the grill. Set the wood chip packets on top of the coals. Stick a drip pan filled with 1/2 inch of water on the side opposite the coals. This will catch the drips from the ribs and keep things moist inside the grill. Reposition the grill rack over the coals and the drip pan. Cover the grill and let the fire simmer down a bit.
Position the ribs and position them on the rack over the drip pan. Cover the grill and test its internal temperature by dropping an instant-read thermoneter down through a vent hole. The grill temperature should be between 225 degrees and 250 degrees. Check on the ribs about ever 45 minutes for the next 3 1/2 to 4 hours. If the rib are looking a bit thirsty, mop lightly with the Mop Sauce. If the temperature of grill dips below 225 degrees, add a few more hot coals to the fire.
To test the ribs for doneness, gently tear the meat between the bones, poke your finger through the meat, check if the meat's internal temperature is at least 180 degrees. Once you've determined the ribs are done, finish by glazing or caramelizing with the Mutha Sauce.
To glaze the ribs, brush with Mutha Sauce and let the ribs cook for 20 minutes in the covered grill.
To caramelize the ribs, crank the heat up to high on the grill and flip the finished rim over onto direct high heat. When they're nice and bronze colored, brush with barbecue sauce and serve.
* Courtesy Dinosaur Bar-B-Que
Recipe Summary
Main Ingredients: ribs, pork ribs, barbecue sauce,
Course: Main Course, Sauces and marinades