Scarpetta's Coconut Panna Cotta
From 'Chef's Table'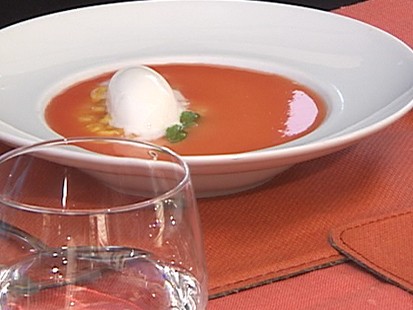 Scarpetta chef Scott Conant cooks cream into a refreshing dessert.
From the kitchen of Scott Conant
|
Ingredients
1 cup milk
1 1/2 cups heavy cream
1 3/4 cup coconut milk
4 1/2 gelatin sheets
1 cup sugar
6 ounces guava puree
Coconut sorbet for garnish
Cooking Directions
Heat the coconut milk, cream and milk to a scald. Bloom the gelatin in cold water. Add the sugar to the cream mixture and whisk well until dissolved. Add the gelatin to the cream mixture and dissolve as well. Pour the liquid into the bottom of a small mold and cover. Refrigerate 2-3 hours to allow to set.
Cover the top of the set panna cotta with the guava puree and serve with the coconut sorbet on top.
Other Recipes That You Might Like