Hot Dog Chili Cheese Sandwich
What You Get When You Cross Left Over Hot Dogs and Chili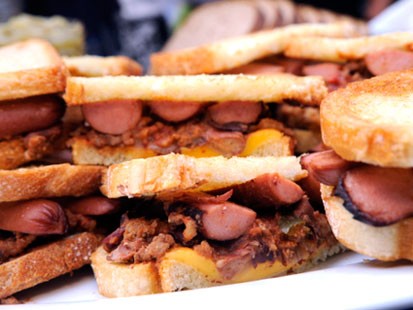 From the kitchen of Jessica Tingler
|
What happens when you cross left over hot dogs and chili? You get a hot dog chili sandwich! Jessica Tingler from St. Joseph, Missouri came up with the sandwich when that is all she could find in the fridge one day.
Do you think you make the best sandwich in the country? Click here to tell us how you do it.
Ingredients
bread (2 to 4 pieces, depending on how big you want your sandwich)
butter
chili
hot dogs
cheese
onions
chili dog toppings
Cooking Directions
Take two or four pieces of bread (depends on how big you want your sandwich) and butter the outsides. I use a griddle to cook these and place one of the pieces of bread on the griddle. I use left over chilli and cut up a few hotdogs. You can put cheese, onions, or any other chilli dog toppings on that you wish. Grill it on the griddle as you would a grilled cheese and then enjoy.
Every time we get ready to have chilli dogs now my boyfriend asks for a chilli dog sandwich instead. You can serve it however you want we eat ours with chips or french fries .
Other Recipes That You Might Like