Jalapeno Tuna Salad Sandwich
Jalapeno Tuna Salad Sandwich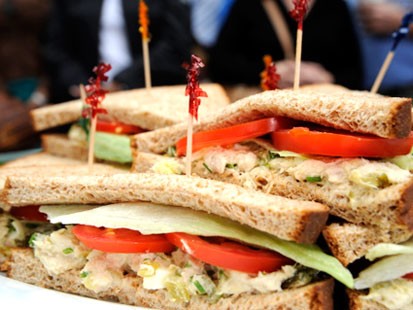 From the kitchen of Pat Canales
|
Pat Canales of Premont, Texas loves jalapenos on everything, so why not in her tuna sandwich! She says jalapenos give "zest" to all foods and that it makes the sandwich "delicious."
Do you think you make the best sandwich in the country? Click here to tell us how you do it.
Ingredients
12 ounce can tuna in water, drained
2 eggs, hard boiled and chopped
1/3 cup chives
1/3 cup sweet pickles, diced
1/2 cup mild pickled jalapenos, chopped
1/2 cup light mayonnaise (or light Miracle Whip)
Cooking Directions
Mix all together.
Serve on wheat bread or toast with a leaf of lettuce and sliced tomatoes.
Light potato chips on the side.
Other Recipes That You Might Like