Martha Hall Foose's Ain't No Thing Chicken Wing
Perfect for End-of-Summer Grilling and Fall Tailgating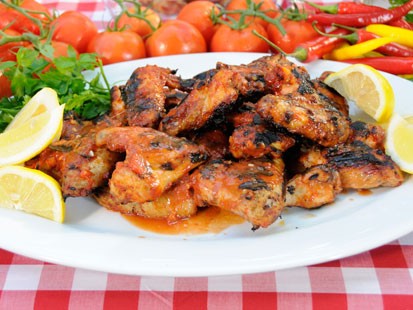 From the kitchen of Martha Hall Foose
|
From "Screen Doors and Sweet Tea":
Ain't No Thing, Chicken Wing -- Itta Bena, home of the Fighting Delta Devils
Retired Mississippi Valley State University head football coach Archie "The Gunslinger" Cooley said on more than one occasion while wearing a 10-gallon hat and at times a pistol slung on his hip, "Jerry could catch a BB in the dark of night." He was talking about Jerry Rice, possibly the greatest wide receiver ever to play the game of football, who was also a star on the TV show "Dancing With the Stars." He surely knows a thing or two about fancy footwork. In the 1984 South Western Athletic Conference season, Rice teamed with quarterback Willie Totten and "The Satellite Express" averaged 59 points a game. The Delta Devils rounded out the season with an unprecedented 628 points.
The Devils introduced college football to the "no huddle" offence and ushered in an era of showmanship. The tiny town of Itta Bena blazed with excitement and the tailgating was legendary. Today the Alcorn State vs. Valley game brings the fans to a fevered pitch and the wings are still hot as the devil.
Ingredients
2 cloves garlic, minced
1 bottle chili sauce (12 oz.)
1 teaspoon ground cumin seed
1 teaspoon ginger
1 teaspoon salt
2 tablespoons apple cider vinegar
3 tablespoon hot pepper sauce
1 tablespoon honey
12 chicken wings
Cooking Directions
In a large bowl, combine garlic, chili sauce, cumin, ginger, salt, vinegar, pepper sauce, honey. Add chicken wings and let marinate while preparing grill.
When ready to grill, follow manufactures instructions for indirect heat grilling. (Build a charcoal or wood fire on one side of grill or heat half of a gas grill.) Close cover and heat to 450º.
Remove wings from marinade (reserving marinade). Place wings on grill, away from coals. Close cover and cook wings for 30 minutes turning and rearranging once.
Meanwhile, in a small saucepan over high heat, bring reserved marinade to a boil. Cook 5 minutes, or until thick. Brush thickened sauce over the wings and cook an additional 5 to 8 minutes, or until wings are well glazed and no longer pink next to the bone.
*Courtesy Martha Hall Foose " Screen Doors and Sweet Tea"
Other Recipes That You Might Like