Chocolate Chocolate Brownie Cups
'The Most Decadent Diet'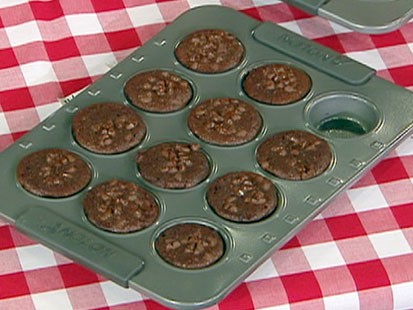 From the kitchen of Devin Alexander
|
I showed up to my pitch meeting for this book with brownie batter on my jeans. I have had so much success with these brownies and another variety that I've been making for years that I rarely go anywhere without taking them. I truly believe that in the case of my cooking, tasting is believing.
They're so moist and chocolaty, they often end up on me or even on my publicist's cell phone as we scurry to wrap up pretty platters of them. But we don't mind because they've landed me tons of TV spots and even made this book possible.
I hope you'll enjoy baking them as much as I do and that you'll consider creating your own platters of them to give to people you care about. They're sure to love them and you'll be doing them a huge favor saving them tons of fat and calories.
Note that they freeze extremely well if you want to keep them on hand for your children's after-school cravings or your midnight sweet tooth. With only 50 calories and 1 g of fat each, you really can't go wrong!
Ingredients
1/2 cup unsweetened applesauce
1 teaspoon vanilla extract
8 egg whites
2 cups sugar in the raw
1/2 cup unbleached, all-purpose flour
1 cup unsweetened cocoa powder
2 teaspoons instant espresso powder
1 teaspoon baking powder
1 teaspoon salt
1/2 cup mini chocolate chips (semisweet), divided
Butter-flavored cooking spray
Cooking Directions
Preheat the oven to 350 degrees. Thoroughly mist 2 12-cup non-stick mini-muffin tins with spray.
In a large mixing bowl, using a sturdy whisk or spatula, mix the applesauce, vanilla, egg whites and sugar until they are well combined. Add the flour, cocoa powder, espresso powder, baking powder and salt. Stir the mixture until it is just combined and no lumps remain. Working in batches, fill each cup until it is just barely full. Sprinkle about one fourth of the chips evenly over the brownies in each of the tins. Bake them for 10-12 minutes or until a toothpick inserted in the center comes out dry (a few crumbs are OK).
Transfer the pan to a cooling rack and allow them to cool 5 minutes. Using a butter knife, gently lift the brownies from the muffin tins (if they are sticking, gentle run the knife around the edge of each cup). Allow them to cool another 10 minutes. Repeat with the second half of the batter and the remaining chips.
Makes 48 brownie cups; 24 servings.
Each serving (2 brownies) has: 109 calories, 2 g protein, 23 g carbohydrates, 1 g fat, <1 g saturated fat, 0 mg cholesterol, 1 g fiber, 139 mg sodium
You save: 151 calories, 11 g fat, 2 g saturated fat
Traditional brownie cups (2 brownies) have: 260 calories, 3 g protein, 37 g carbohydrates, 12 g fat, 3 g saturated fat, 15 mg cholesterol, 1 g fiber, 165 mg sodium
* Recipes taken from Devin Alexander's "The Most Decadent Diet Ever!" and www.devinalexander.com
Other Recipes That You Might Like