Mussels With Spicy Tomato Sauce, Guanciale, Yuzu, Sake and Basil
'Chef's Table' and Centro Vinotecha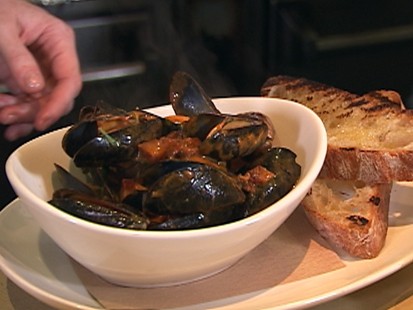 Centro Vinoteca chef Leah Cohen sautes mussels with spicy Italian flare.
From the kitchen of Leah Cohen
|
Ingredients
1 onion, small dice
5 cloves garlic, minced
1 can whole tomatoes passed through food mill
1/2 cup guanciale, medium dice cooked
2 tbs chili flakes
1/4 cup sake
1 tbs yuzu juice
4 tbs olive oil
1 lb mussels
2 tbs basil chiffonade
1 tbs finishing olive oil
Salt to taste
Cooking Directions
In a sauce pot heat 3 tbs olive oil, add onion and sweat until tender. Once onions are soft add 4 cloves garlic minced and chilli flakes. Cook for 2 minutes and add tomatoes. Cook for 45 minutes on low heat. Season with salt. After tomato sauce is cooked put in a blender and buzz it. Pass through a chinois.
For the mussels: On a saute pan heat up 1 tbs olive oil, add 1 clove of garlic minced and cook for 1 min. Add the mussels, sake and 1 cup if the tomato sauce, cover with a lid. Once the mussels open turn off heat and add guanciale, yuzu, basil, finishing olive oil and basil.
Other Recipes That You Might Like