English Pea Ravioli With Parmigiano Broth and Truffle
'Chef's Table' and Centro Vinotecha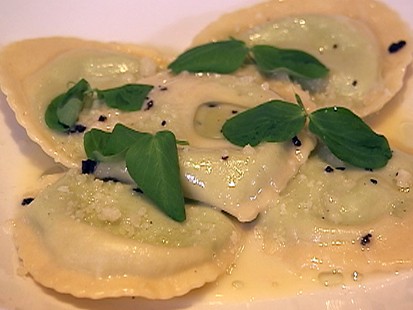 Centro Vinoteca chef Leah Cohen presents ravioli with a garden fresh twist.
From the kitchen of Leah Cohen
Ingredients
Pea filling:
2 cups english pea, cooked
1 cup sheep's milk ricotta
60 g shallots
30 g garlic
60 g butter
2 g xantham gum
Zest of 1 lemon
Salt to taste
Parmigiano broth:
2 lbs of parmigiano rinds
Enough water to cover rinds
1/4 c heavy cream
Salt to taste
The pickup:
5 pea ravioli
4 tbs parmigiano broth
1/2 tsp chopped black truffle
1/2 tsp white truffle oil
1 tsp butter
1/4 tsp grated parmigiano
Pea green leaves for garnish
Cooking Directions
Pea filling:
Heat butter and sweat shallots and garlic until soft and cooked but no color. Once this mixture is cooled add all ingredients in a blender. Once the mixture is smooth season with salt and lemon zest.
Parmigiano broth:
In a pot place the parmigiano rinds and cover with water. Cook over low heat for about 1 1/2 hours. Strain mixture and return to heat and reduce by half. Finish with cream and salt. Make sure to skim of any fat that will rise to the top.
The pickup:
Once ravioli are made add to boiling water and cook for 3 minutes. In a sauce pan heat 4 tbs of the parmigiano broth with 1 tbs of butter. Add 1/2 tbs of chopped black truffle. Once the ravioli is cooked add to parmigiano broth. Plate and sprinkle grated parmigiano and truffle oil. Garnish with pea green leaves.
Recipe Summary
Main Ingredients: english pea, sheep's milk ricotta, black truffle, parmigiano,
Course: Dinner, Main Course, Pasta