Emeril's Fresh Strawberry Pie
A Refreshing Summer Dessert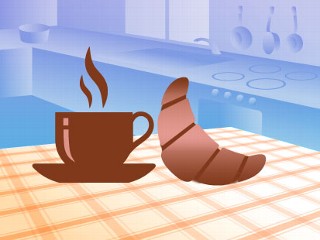 From the kitchen of Emeril Lagasse
|
Emeril Lagasse has a delicious recipe for Fresh Strawberry Pie. A perfect recipe for strawberry season. Great for summer entertaining!
Ingredients
2 pounds fresh strawberries, rinsed and hulled
1/2 cup sugar plus 2 tablespoons sugar
2 1/2 teaspoons cornstarch
1 1/2 teaspoons lemon juice, freshly squeezed
1/8 teaspoon salt
2 1/2 teaspoons unflavored powdered gelatin
2 tablespoons cold water
1 baked Flaky Pie Crust
1 cup cold heavy whipping cream
1/4 cup warm water
1/2 teaspoon vanilla extract
Cooking Directions
Slice about 3 cups of the strawberries 1/4 inch thick and place them in a medium bowl. Crush the sliced berries with a potato masher or a fork; you should have about 1 1/2 cups crushed berries. Place them in a small saucepan. Add the 1/2 cup sugar and the cornstarch, lemon juice, and salt, and stir to combine.
Soften 1 1/2 teaspoons of the gelatin in the cold water, and set it aside.
Place the saucepan over low heat and bring the berry mixture to a simmer. Cook, stirring occasionally, until the mixture is transparent and of medium thickness, about 5 minutes. Remove from the heat, add the softened gelatin, and stir until the gelatin has dissolved. Set aside to cool.
Cut 1 cup of the remaining berries into quarters, and gently fold them into the cooled cooked mixture. Pour the filling into the baked pie shell, and chill in the refrigerator until set, at least 1 hour, and up to overnight before serving.
Chill the whisk attachment and the bowl of an electric mixer in the refrigerator for about 10 minutes.
Attach the bowl and whisk to the mixer, and add the heavy cream and the remaining 2 tablespoons sugar. Whip until soft peaks form.
Soften the remaining 1 teaspoon gelatin in the warm water, and set aside until cool but not set. With the mixer running, add the softened gelatin to the whipped cream and whip until stiff peaks form. Add the vanilla. Working quickly, use a spatula to top the pie with the whipped cream, spreading it evenly and smoothly. Return the pie to the refrigerator and chill until set, at least 45 minutes.
Slice or halve the remaining strawberries, and arrange them decoratively on top of the pie. The pie will keep for up to 3 days in the refrigerator.
*Recipe courtesy Emeril Lagasse, "Emeril at the Grill", HarperStudio Publisher, New York, 2009, courtesy Martha Stewart Living Omnimedia, Inc.
Other Recipes That You Might Like