Banana Chocolate Chip Muffins
From 'Cook Yourself Thin'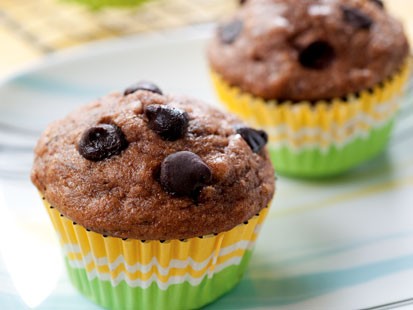 From the kitchen of Lifetime Television
A little chocolate goes a long way in these hearty muffins powered by wheat flour and heart-healthy oat bran. And tangy low-fat buttermilk takes the place of heavy cream without making a fuss about it.
Ingredients
1 cup all-purpose flour
1 cup whole-wheat flour
1/2 cup rolled oats
2 tsp ground cinnamon
2 tsp baking powder
1 tsp baking soda
1/2 teaspoon salt
1 ripe banana, mashed
1/4 cup chopped walnuts
1/2 cup light brown sugar
2 tablespoons vegetable oil
2 large organic eggs
1 1/4 cups reduced-fat buttermilk
1 tsp pure vanilla extract
2 tbs chocolate chips
Cooking Directions
Preheat the oven to 400 degrees Line a 12-muffin tray with paper liners. Set aside.
In a standing mixer, combine the all-purpose flour, wheat flour, rolled otas, ground cinnamon, baking powder, baking soda, salt and mashed banana and blend on low speed for 2 minutes. Add the walnuts, brown sugar, vegetable oil, eggs, and reduced-fat buttermilk and blend for 2 minutes on medium speed. Add the vanilla extract and mix until well combined.
Using an ice cream scoop, portion the batter evenly into the muffin tin and top each muffin with 3 to 4 chocolate chips. Bake at 400 degrees for 15 minutes. Once they are baked through, remove them from the oven and let cool. Serve.
Calories per serving: 200
*Courtesy of Cook Yourself Thin: Skinny Meals You Can Make in Minutes
Recipe Summary
Main Ingredients: whole wheat flour, organic eggs, buttermilk, banana, walnuts, chocolate
Course: Breakfast, Brunch, Dessert, Snack
More Info: Heart Healthy, Low Calorie, Low Fat