Crunchy String Bean Salad
Easy, Summer Side Dish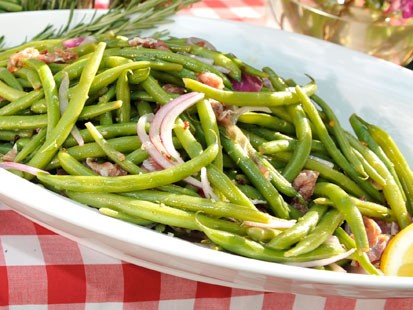 From the kitchen of Michael Schlow
Michael Schlow, chef/owner of Alta Strada, shares a recipe for crunchy string bean salad. It is a dish he likes to served chilled at a barbecue. In colder weather, it makes a nice heated side dish to meat or chicken.
Ingredients
3 pounds fresh string beans, ends snipped
3 tablespoons salt
1 to 2 small red onions, thinly sliced, about 2 cups
10 to 12 thin slices prosciutto di Parma, julienned
3/4 cup extra-virgin olive oil
Juice of 2 lemons
1 tablespoon fresh rosemary, chopped
Salt to taste
Pepper to taste
Crushed red pepper flakes to taste
Cooking Directions
Bring a large pot of water to a boil and add the salt.
Fill a large bowl with ice water and set it beside the sink.
Blanch the string beans in the salted water for 1 to 2 minutes, until cooked but still slightly crunchy, then strain and plunge in ice water for 2 minutes.
Strain beans, transfer to a bowl, and refrigerate. (The beans can stay in the fridge for up to a day.)
Remove beans from the fridge 1 hour before serving. Add the onions and prosciutto. (This
can either be done in advance or when you dress the salad.)
Just before bringing the salad to the table, mix in the oil, lemon juice, rosemary, salt, pepper, and crushed red pepper flakes.
Taste for seasoning, add more oil or lemon if necessary, and serve.
*Recipe courtesy Michael Schlow's "It's About Time."
Recipe Summary
Main Ingredients: string beans, onions, prosciutto
Course: Side Dish, Vegetable