Rocco DiSpirito's Angel Food and Cherry Cake With Ginger Cream
Recipe Courtesy of Rocco DiSpirito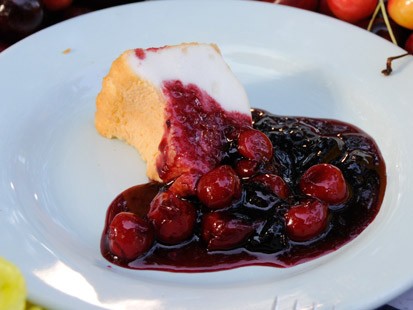 From the kitchen of Rocco DiSpirito
|
Rocco DiSpirito's angel food cake with cherry compote and ginger cream is an easy summer dessert.
Ingredients
4 large slices angel food cake
1 large nub fresh ginger (about 8 inches long), cut into 2 inch chunks
1 teaspoon sugar (if you don't have a juicer)
1 cup heavy whipping cream, very cold
Pinch of salt
1 15 ounce can cherry pie filling, drained
8 ounces cherry preserves
Cooking Directions
Juice ginger with a juicer.
If you don't have a juicer, place ginger and sugar in the bowl of a food processor and pulse until chopped fine.
Put ginger in a thin cloth and wring the ginger until all of the juice is released.
You will need 3 tablespoons of the juice. Combine the juice with the cream and add a pinch of salt.
Whip the ginger cream until soft peaks form. This must be done directly before serving.
In a small bowl, heat cherry preserves until liquefied -- about 1 minute, in a microwave.
Combine with the drained cherry pie filling.
Lay out angel food slice on four plates.
Top each slice with 1/4 of the cherry mixture, making sure that you use a good amount of the liquid to soak the cake. Next, top with a large dollop of ginger whipped cream.
Serve immediately.
Other Recipes That You Might Like