Sebastiaan Zijp's Baby Boston Lettuce With Hearts of Palm Salad
Chef's Table: Bar Blanc Bistro's Recipe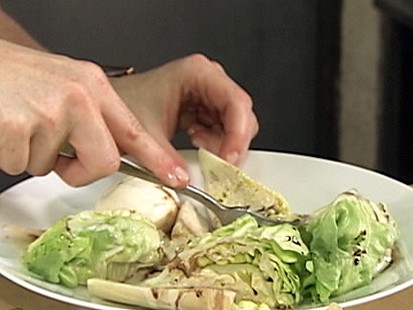 Bar Blanc Bistro chef Sebastiaan Zijp layers on a decadent starter.
From the kitchen of Sebastiaan Zijp
Chef Sebastiaan Zijp shares a recipe for a refreshing summer salad.
Ingredients
For the Salad:
3 heads boston lettuce, cleaned of outer leaves and cut into quarters
4 eggs, cooked for 5 and 1/2 minutes, peeled
4 pieces cooked hearts of plam, halved
1 quart chicken stock
Pinch of salt
1 cup dressing (ingredients follow)
1/2 cup pecorino cheese, shaved
1 tablespoon aged balsalmic vinegar
3 tablespoons olive oil
For the Dressing:
1 cup mayonnaise (store bought or homemade)
1 cup creme fraiche
3 tablespoons sherry vinegar
1 tablespoons aged balsamic vinegar
1 tablespoons dry vermouth
3 tablespoons port wine
3 shallots, sliced thin
3 cloves garlic, sliced thin
1 bunch dill
1 bunch tarragon
1 bunch parsley
1 bunch chives
Salt, white pepper and sugar to taste
Cooking Directions
For the Hearts of Palm:
Bring the stock to a simmer and season well with salt.
Add the hearts and poach gently till they are fork tender. Be careful not to overcook, and never boil.
Cool quickly and reserve in cooking liquid.
Combine the balsalmic vinegar and olive oil.
For the Dressing:
Mix all the ingredients except the shallots, garlic and herbs.
Beat well with a whisk to make sure it's smooth, then add all the herbs and marinate overnight. The longer the better as all the flavors will meld together much more.
Assembly:
To finish, place the lettuce, and palm on a tray and dress liberally with the dressing.
Plate the peeled eggs and arrange the lettuce and palm around the egg, top with the shaved pecorino and a drizzle of the balsamic oil.
Recipe Summary
Main Ingredients: boston lettuce, hearts of palm, eggs, pecorino cheese, dressing
Course: Salad, Side Dish